Devyani Khobragade row: India targets US nationals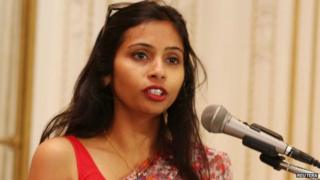 India is checking the tax status of Americans working at schools in the country, after the arrest this month of an Indian diplomat in New York.
Devyani Khobragade was handcuffed and strip-searched while in custody.
Her detention on charges of visa fraud and underpayment of her housekeeper sparked outrage in India.
India would no longer turn a blind eye to tax violations by diplomats' spouses taking up work in the country, Reuters cited an unnamed official as saying.
Delhi has also withdrawn some privileges enjoyed by American diplomats and their families in the country, added the official.
"Spouses and children have no more immunity. So if there is a parking offence or... something else happening in Bangalore etcetera, they would be held liable."
The US embassy declined to comment on the latest steps.
While US Secretary of State John Kerry has expressed his "regret" over Ms Khobragade's arrest, the state department has said it will not drop charges, as requested by India.
Delhi has also demanded an apology from the US over the diplomat's alleged "humiliation".
India's deputy consul general in New York was arrested in the city on 12 December on suspicion of visa fraud and making false statements, after being accused of paying her Indian maid below the US minimum wage.
She was handcuffed and strip-searched after a complaint from the maid, Sangeeta Richard.
The diplomat, who has been released on bail, denies all the charges and has in turn accused Ms Richard of theft and attempted blackmail.
Delhi had already ordered a series of reprisals against the US. Security barricades around the US embassy in the city were removed and a visiting US delegation was snubbed by senior Indian politicians and officials.
According to documents filed in a New York court, Ms Khobragade wrote on a visa application that the maid would be paid $4,500 a month, but she was paid under $573 - less than the New York state minimum wage.
If found guilty, Ms Khobragade faces a maximum sentence of 10 years for visa fraud and five years for making false statements.