Arvind Kejriwal to form Delhi government on Saturday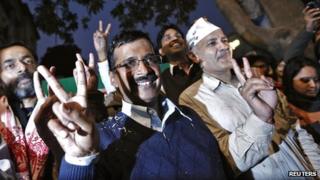 The leader of a new anti-corruption party in India will be sworn in as the chief minister of Delhi on Saturday.
Arvind Kejriwal's Aam Aadmi Party (AAP), or Common Man's party, won 28 of the 70 seats in the assembly polls. It would have support from the Congress.
The Congress party lost control of Delhi, winning only eight seats.
Earlier, the main opposition BJP, which emerged as the single largest party with 32 seats, declined to form a government.
It said it would sit in opposition since it did not have the support of 36 legislators needed to rule Delhi.
Mr Kejriwal's swearing-in will be held at Ramlila Maidan - a sprawling ground in Delhi often used for huge political rallies and religious congregations.
This, correspondents say, would be a departure from tradition since Delhi governments are usually sworn in at the Raj Bhavan (Governor's house).
Reports say at least six ministers belonging to AAP will be also sworn in on Saturday - many say Mr Kejriwal's cabinet will be the most youthful in the country with one of the ministers only 26 years old.
Though the Congress party has decided to give outside support to the AAP government, Mr Kejriwal said he was not seeking an alliance with any party.
"We are concentrating on issues, not support. We are going ahead with 28 legislators and an 18-point agenda, and whoever backs it [the agenda] supports us," he said.
Delhi's Lieutenant-Governor Najeeb Jung has asked Mr Kejriwal to prove the majority of his government in the assembly by 3 January.
Initially, a hung assembly seemed imminent with both the BJP and AAP refusing to form the government, saying that they had not won enough seats.
However, AAP later changed its mind saying it had received "overwhelming support" from voters to go ahead and form a government.
The AAP was born out of a strong anti-corruption movement that swept India two years ago.