Indian media highlight challenges for new Delhi government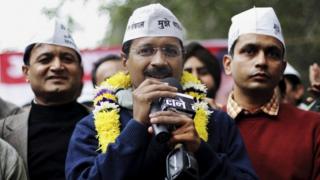 India's debutant Aam Admi Party needs to get out of its activism mode and must meet people's expectations as it looks set to form a government in Delhi, papers say.
The Aam Aadmi Party (AAP), or Common Man's party, won 28 of the 70 seats in the assembly polls and has decided to govern Delhi with support from the Congress.
Led by former civil servant Arvind Kejriwal, the AAP was born out of a strong anti-corruption movement that swept India two years ago.
Earlier, the main opposition Bharatiya Janata Party (BJP), which emerged as the single largest party with 32 seats, declined to form a government since it did not have the support of 36 legislators needed to govern Delhi.
Most papers say that the rise of the AAP has been a welcome change in Indian politics but also agree that the party's poll promises are "unfeasible".
"Take for example its promise of auditing private electricity distribution companies and slashing power bills by 50%. While an audit is welcome, a massive reduction in power tariffs is improbable given rising coal and gas prices," The Times of India says.
The paper adds that the party "must tone down its populist policies and adopt a pragmatic approach".
Papers also feel that AAP may have to adjust its approach as it now has to govern Delhi.
"The task of governance, it will find, is not about pleasing everyone all the time, but of weighing competing claims, making choices and taking responsibility for them," The Indian Express says.
The Hindustan Times suggests that the pressure on AAP has been amplified due to the party's overt criticism of other political parties.
"Given the manner in which the AAP has attacked all political parties, accusing them of betraying the trust of the people, it will have to deliver on its promises double quick once it takes over the government. And therein lies the rub," the paper says.
The Hindu says that the AAP's "journey from mass movement to political office in just one year is without a parallel in Indian electoral history" but "the real test of the AAP's commitment to clean politics and transparent governance begins now".
Avalanche warning
Meanwhile, the funeral of two Indian soldiers killed in South Sudan was held with full state honour, the Firstpost website reports.
Dharmesh Sangwan, 34 and Subedar Kanwar Pal Singh, 46, were killed when rebels attacked a United Nations base in the African country on 19 December.
In other news, India is set to start an emergency response number similar to the 911 in the US, the Hindustan Times reports.
"The toll-free number will be a single point of contact for assistance in case of any kind of emergency such as fire, burglary, violence, house collapse etc," the paper reports.
Elsewhere, avalanche warning has been issued in parts of Indian-administered Kashmir after heavy snowfall, the NDTV website reports.
"As most parts of Jammu and Kashmir experienced moderate to heavy snowfall for the past couple of days, authorities today (Monday) issued a warning advising people not to venture out into avalanche-prone areas," the website reports.
Also, fog continues to disrupt rail and flight services in other parts of northern India, reports say.
But the cold weather is not stopping food lovers from flocking to a street-food festival being held in Delhi, The Hindu reports.
"Around 118 street food stalls from across the country and a footfall of 18,000 in the past two days defined Delhi's third edition of Street Food Festival that began at Jawaharlal Nehru Stadium grounds here on Friday," the paper says.
BBC Monitoring reports and analyses news from TV, radio, web and print media around the world. For more reports from BBC Monitoring, click here. You can follow BBC Monitoring on Twitter and Facebook.