Arvind Kejriwal's AAP set to form Delhi government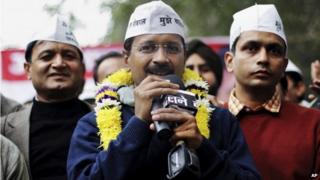 A new anti-corruption party in India has announced it will form the government in the capital, Delhi.
Arvind Kejriwal, former civil servant and leader of the Aam Aadmi Party (AAP), or Common Man's party, will be the new chief minister, the party said.
AAP, which won 28 of the 70 seats in the assembly polls, said it would have support from the Congress. A date for swearing in will be announced later.
The Congress party lost control of Delhi, winning only eight seats.
Earlier, the main opposition BJP, which emerged as the single largest party with 32 seats, declined to form a government since it did not have the support of 36 legislators needed to rule Delhi.
'A betrayal'
"I have told the lieutenant-governor that AAP will form the government in Delhi," Mr Kejriwal told reporters after meeting Lieutenant-Governor Najeeb Jung on Monday afternoon.
The swearing-in ceremony, he added, would be held at Ramlila Maidan - a sprawling ground in Delhi often used for huge political rallies and religious congregations.
This, correspondents say, would be a departure from tradition since Delhi governments are usually sworn in at the Raj Bhavan (Governor's house).
BBC Hindi's Salman Ravi in Delhi says AAP supporters shouted slogans greeting Mr Kejriwal after he announced that his party would form the government.
Former Delhi chief minister and senior Congress party leader Sheila Dixit congratulated Mr Kejriwal and said he must now "fulfil the promises he made to the people of Delhi".
But BJP leader Harsh Vardhan said the AAP's decision to align with the Congress was a betrayal.
"Mr Kejriwal has compromised his principles for power. This is a betrayal to Delhi as Delhi voted against the Congress," he said.
Initially, a hung assembly seemed imminent with both the BJP and AAP refusing to form the government, saying that they had not won enough seats.
The AAP had also said it would not seek or give support to any party to form a government and prefer to sit in opposition.
However, reports say the AAP had a change of heart after "overwhelming support" from voters to go ahead and form a government.
The party carried out a unique referendum among the citizens last week to find out whether they wanted it to form the government.
The AAP says it received more than 750,000 online and mobile phone text message responses from the people. The party also convened public meetings in the city to gauge the public response.
The AAP was born out of a strong anti-corruption movement that swept India two years ago.