Indian sailors released in Togo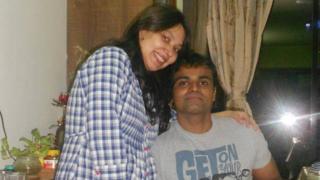 Two Indian sailors who had been languishing in a prison in the West African country of Togo have been released, Indian officials have said.
Sunil James and Vijayan were arrested on charges of aiding pirates who had attacked their ship near Togo.
Mr James's family had campaigned extensively for his release after his infant son died earlier this month.
The family said they had kept his body in the morgue hoping that his father could see him one last time.
Mr James and Mr Vijayan had been arrested for allegedly helping the pirates attack their ship near Togo in July.
"Sailors from India Capt Sunil James and Vijayan released from detention in Togo. Will leave for home later today," Syed Akbaruddin, spokesperson of India's foreign ministry, tweeted on Thursday.
He said the two sailors were released after a meeting between India's high commissioner in Ghana and President Faure Gnassingbe of Togo.
Mr James's family had been fighting for the release of the Mumbai-based sailor for the past few months.
They had met Prime Minister Manmohan Singh after the sailor's 11-month-old son died earlier this month, and the family decided to delay the funeral to enable Mr James to perform the last rites.
India's main opposition BJP had also demanded that the government should make efforts to secure the release of the sailor.
"His 11-month-old son died and his embalmed body has been kept in the hope that Mr James will return and perform the last rites," BJP leader Sushma Swaraj told the parliament on Wednesday.
Mr Akbaruddin said the government had pursued the case "to the best of our abilities" and that no effort was spared to secure his release.