India workers hands chopped off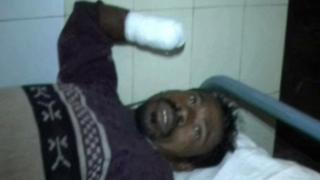 Police in India says hands of two labourers have been chopped off by two men after a dispute over money.
Nilambar Dhangda Majhi and Piyalu Dhangda Majhi have been admitted to hospital in Kalahandi district in the eastern state of Orissa.
Police say that Parame Rout and Kela Rout chopped the hands of the two men after they refused to travel to Chhattisgarh for work.
The Majhis said they had been hired to work in Andhra Pradesh state.
They were among a dozen people who had taken advances totalling 200,000 rupees ($3,230; £1,982) from the Routs.
The gruesome incident has sent shockwaves through the state.
Kalahandi superintendent of police Sarthak Sarangi said a hunt had been launched to arrest the Routs.
The Majhis said they were being forcibly taken away by the Routs to the neighbouring state of Chhattisgarh to work at a construction site there in contravention of the agreement between them, police said.
As per the agreement, they were to go to Andhra Pradesh, another neighbouring state, to work in a brick kiln there.
While the workers were being transported by Routs to Raipur, the capital of Chhattisgarh, barring Majhis all the other men escaped when their vehicle stopped on the way.
The Routs were very angry and asked the Majhis to return the 200,000 rupees they had given as advance to all the workers, Biranchi Narayan Dehury, a police official in Bhawanipatna town in Kalahandi district told the BBC.
"When they expressed their inability to pay back, the Routs chopped off their right hands. They told them that if you are not going to work for us, you cannot work for anybody else either," Mr Dehury said.
Kalahandi is among the poorest and most underdevelopment districts in Orissa and a large number of people from here go to work in the neighbouring states.
Umi Daniel of Action Aid charity, who has worked extensively on the issue of migrant labour for the past decade, says while exploitation and torture of labourers - both by middlemen and their employers in the neighbouring states - is routine, this is first time he has heard something so horrific.