Christie's to hold debut auction in India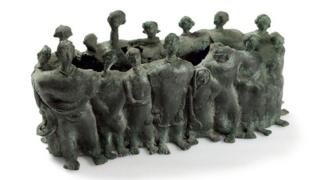 London-based Christie's is holding its first-ever art auction in India on Thursday in the city of Mumbai. Earlier this month, the international auction house displayed some of the works to be auctioned in the capital, Delhi. The BBC's Geeta Pandey went along to see what's on offer.
At its inaugural sale in 1766 in London, Christie's offered "four fine" Indian paintings for sale. Exactly 247 years later, the auction house is set to hold its debut sale in India.
On offer are 83 art works, "covering the last 100 years of Indian art", and they include paintings by "modern masters" - like Tyeb Mehta, Maqbool Fida Husain, Ram Kumar, VS Gaitonde, Jamini Roy and SH Raza - and Nobel prize-winner Rabindranath Tagore, Amrita Sher-Gil and Nandalal Bose.
Tagore, Sher-Gil and Bose are considered "national art treasures" and their works cannot be exported.
The sale is part of a Christie's strategy to attract the Asian buyer - the auctioneer held its first-ever sale in China in September.
On the back of the global financial crisis, the Indian art market crashed after 2008 and is yet to fully recover, but Sonal Singh, head of India sale at Christie's, says "in the last few years, we've noticed that the art market here is very active again" and "whenever there is quality work on offer, it has done well".
And the works on offer are "top quality art by the modern masters" and "rare works by national treasures which rarely come up for sale in the market", says Roshini Vadehra, director of Delhi's Vadehra art gallery.
Many of the works come from the collection of Kekoo Gandhy - gallerist and among the most significant figures in the development of the modern Indian art scene - and his wife Khorsheed Gandhy.
'Truly iconic'
Christie's have described the works from the Gandhy's personal collection as the "centrepiece" of their sale. It includes a small landscape by Gaitonde, Mehta's Falling Figure, Jamini Roy's Head of a Woman and an untitled family portrait of the Gandhy family painted by Husain.
The top draw at the sale, however, is expected to be Tyeb Mehta's large canvas of Mahisasura - the mythical Hindu demon-king who was half human-half buffalo.
Mehta painted nearly 10 versions of the Hindu legend and the canvas on sale here, created in 1994, is expected to fetch between 75m rupees ($1.2m; £750,000) and 95m rupees ($1.5m; £950,000).
"This is a truly iconic piece. We're really honoured to have it," says Ms Singh.
Last year, Christie's sold a version of Mahisasura for $2.2m (£1.4m) at an auction in London and another version sold for $1m in 2005 in New York.
The auction house has been selling Indian art at their auctions in London and New York for years now and the good response in the last few years has prompted their foray into India.
From the Mumbai sale, Christie's expects to raise £3.7m to £5.2m ($6m and $8.5m).
Some have questioned the timing of the sale coming at it does at a time when India's economy has seen a sharp slowdown, but Christie's are upbeat about their prospects here.
"The art market has been growing stronger and stronger here. We've seen Indians are buying international arts, jewellery and watches," says Dr Amin Jaffer, international director of Asian art at Christie's.
Adds business coordinator Zain Talyarkhan: "We've had Indian clients coming to our sales in London and New York and through this sale we want reach new clients and bring our brand to India."
With 103 billionaires and 182,000 millionaires, India offers a huge untapped market for high-end art.
'Great buzz'
"India is one of the most important emerging markets. Rather its a market that's already emerged. In 1995, the auction market was $500,000. In 2013, it has reached $40m," says Ms Vadehra.
"It's a market that has huge potential for an auction house like Christie's, even beyond art. Collectors are willing to consider acquisitions even in antiquities, jewellery and other such items that the auction house deals in."
Ms Vadehra says the impending auction "has already created a great buzz in the Indian art scene" and collectors and dealers are "excited" about the sale.
Christie's says since their catalogue started going out at the beginning of the month, they have been getting tremendous response from Indian clients - old and new.
For Indian buyers and collectors, the auction in Mumbai is likely to give them the "home ground advantage".
"It matters that the buyers can actually walk in and see a work since it's on their doorstep. Also, they would not to have to pay for transportation or customs and other duties to import it into India so there's a cost benefit too," says Dr Amin Jaffer.
He is, however, noncommittal about whether their Mumbai auction will become an annual event like the sales in London and New York.
"Mumbai is not a flash in the pan for us. We're committed to Indian art, but we have to see the results of this sale to decide on our future strategy," he says.