North India engulfed by winter's first fog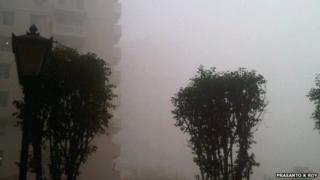 A dense fog has enveloped the capital, Delhi, and parts of north India causing huge disruption to air and rail travel.
Officials said at least 40 domestic and international flights were delayed at the Delhi airport as the runway visibility dropped to below 50 metres.
Railway officials said dozens of trains to and from the capital were also cancelled or delayed.
Correspondents say traffic disruption due to fog in winter has become routine in north India.
Reports say the winter's first fog began descending on the capital late on Sunday night, and thickened early on Wednesday morning, engulfing the entire city.
Meteorological department officials say that cold and foggy conditions are expected to continue for the next few days and travel chaos is likely to get worse during the week.