Anna Hazare anti-corruption fast enters seventh day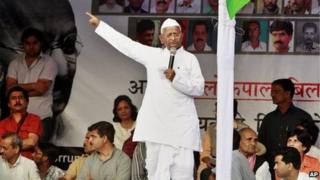 A fresh hunger strike by an anti-corruption campaigner in India to renew his demands for the parliament to pass tough anti-corruption laws has entered its seventh day.
The parliament is expected to soon debate the anti-corruption bill, which Mr Hazare has been demanding.
The Lokpal bill sets up an independent ombudsman with the power to prosecute politicians and civil servants.
Mr Hazare's 12-day fast led to the bill being introduced in parliament in 2011.
The lower house passed the Lokpal bill in December of that year but the upper house adjourned amid chaos without approving the law.
A string of major corruption scandals has damaged the government's reputation.
Mr Hazare's latest, "indefinite" hunger strike at his village of Ralegan Siddhi in the western state of Maharashtra has entered its seventh day on Monday.
The 76-year-old campaigner has said he would end his fast after the bill was passed into law by the parliament.
"I won't end my fast till the bill is passed. I do not want to die so soon. I want to live for the country and fight for the country, for the society," Mr Hazare said on Sunday.
'Weak bill'
The Congress party and the main opposition BJP have said they would support the passage of the bill in the upper house. However, the regional Samajwadi Party, an ally of the Congress, has opposed the bill.
"Chances are high that the bill will be passed in the upper house on Monday," India's Minister of State for Personnel V Narayanasamy told reporters on Sunday.
Over the weekend, Congress party leader Rahul Gandhi pledged his support to the bill, saying it was a "very, very powerful instrument" in the fight against corruption.
"We are 99% there, near the finish line. I am not saying Lokpal is a solution for all ills, but it is a big step," he told reporters on Saturday.
However, Arvind Kejriwal, a former top aide of Mr Hazare in the anti-corruption campaign, has said the Lokpal bill which has been placed in the parliament was "weak".
Last year, the two campaigners parted ways over Mr Kejriwal's plans to enter politics, with Mr Hazare saying he preferred "sacred" agitation over politics, "which is full of dirt".
Both are demanding the appointment of an independent anti-corruption ombudsman.
In recent years, India has been hit by a string of high-profile corruption scandals including a telecoms bribery scam that may have cost the government $39bn (£23bn), alleged financial malpractice in connection with the Delhi 2010 Commonwealth Games and allegations that homes for war widows were diverted to civil servants.
Critics of the government say the scandals point to a pervasive culture of corruption in Prime Minister Manmohan Singh's administration.