India lifts freeze on Nokia factory in tax dispute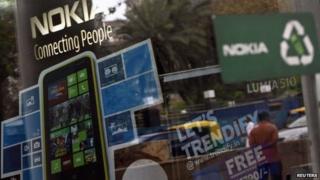 An Indian court has accepted an appeal by Finnish phone maker Nokia to release its local factory seized by authorities in a tax dispute in September.
The factory in the southern city of Chennai is one of Nokia's largest manufacturing facilities.
Nokia was ordered to deposit 22.5bn rupees ($364m; £222m) in an account as a condition for lifting the freeze.
The ruling removes a hurdle to the sale of Nokia's mobile phone business to Microsoft.
The plant is due to transfer to Microsoft as part of the US tech giant's $7.2bn purchase of Nokia's mobile unit.
Nokia is yet to comment on Thursday's court order, but in the past the company has said it always observes "applicable laws and rulings in the countries where we operate".
In March, Indian tax authorities served Nokia with a tax demand for 20.8bn rupees for five fiscal years from 2006-07.
The factory, which was set up in 2006, produces various models, including smartphones targeted at consumers in emerging markets. It was also raided by the tax authorities in January.
Nokia is among several foreign firms facing tax issues in India, including IBM, Royal Dutch Shell, Vodafone and LG Electronics.