India Supreme Court to rule on gay sex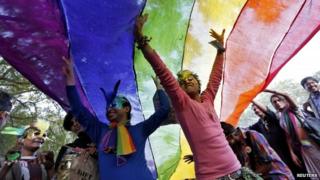 India's top court is due to rule on decriminalising gay sex in a country where many regard same-sex relationships as illegitimate.
A 2009 landmark judgement by the Delhi high court overturned a 148-year-old colonial law which described a same-sex relationship as an "unnatural offence".
Under it homosexual acts were punishable by a 10-year prison term.
The ruling was challenged by political, social and religious groups who want to have the colonial-era law reinstated.
Section 377 of the colonial Indian Penal Code defined homosexual acts as "carnal intercourse against the order of nature" and made them illegal.
In July 2009 the Delhi High Court described the law as discriminatory and said gay sex between consenting adults should not be treated as a crime.
The ruling was widely and visibly welcomed by India's gay community, which said the judgement would help protect them from harassment and persecution.
But it was strongly opposed by religious groups, particularly leaders of India's Muslim and Christian communities.
They appealed against the ruling to the Supreme Court, which concluded hearings on the subject in March last year.
Gay rights activists said they were hopeful that the top court would uphold the 2009 judgement.
"It is going to be extremely difficult to overturn the previous judgement," Ashok Row Kavi, a Mumbai-based gay rights activist told the AFP news agency.
"If the court overturns the matter, then that would be going against the current of international law," Mr Kavi said.
Activist Nitin Karani said if the court "fails to give a verdict or goes back to the British era, then that will be another struggle, another shame".