India 'man-eating' tiger captured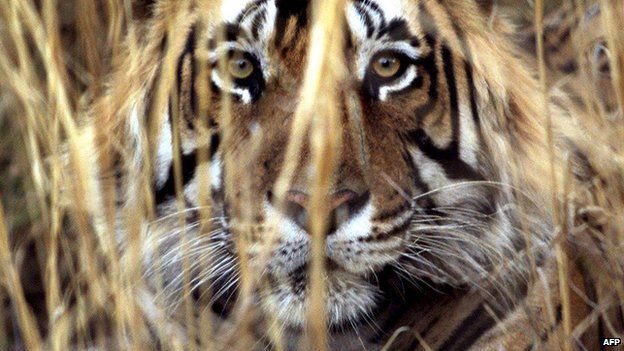 A tiger that is believed to have killed three villagers in the past week in the southern Indian state of Karnataka has been caught, a senior official said.
The animal has been shot with tranquilisers and put in a cage, C Srinivasan told BBC Hindi.
Angry locals who are demanding compensation for the families of those killed are preventing forest officials from removing the cage, he said.
A fourth fatality in recent days is being blamed on another tiger.
The killings have created tension in up to 20 villages and on Wednesday, angry farmers vandalised a forest department office and set fire to two jeeps.
The Bandipur tiger reserve in Karnataka state is one end of a huge forest sanctuary that cuts across three states of southern India.
According to a 2011 census, there are about 1,700 tigers left in the wild in India.
It is thought India had 100,000 tigers a century ago but there has been a serious decline in numbers since then. Poaching and shrinking habitats are blamed.
The BBC's Sanjoy Majumder in Delhi says that tigers often compete with villagers living close to the reserves for resources, often leading to direct conflict.