Salman Khan: Fresh trial ordered in Bollywood star hit-and-run case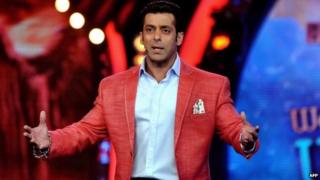 A court in the Indian city of Mumbai has ordered a fresh trial in a 10-year-old hit-and-run case involving Bollywood star Salman Khan.
He asked for a new trial after being charged with culpable homicide in July.
As he was already being tried for the lesser offence of "death caused by negligence", Khan argued that the evidence should be discarded in light of the more serious charge.
He denies allegations of killing a street sleeper in 2002 while driving.
Khan is one of Bollywood's biggest stars and has starred in more than 80 Hindi-language films, including Dabangg, Ready, Bodyguard, Ek Tha Tiger, Maine Pyar Kiya and Hum Aap Ke Hain Kaun.
But he has often been described as a "bad boy" heart-throb. In 2006, he was sentenced to five years in prison for hunting a protected deer, but he was released on bail after spending less than a week in jail.
In his order on Thursday, Mumbai Sessions court judge DW Deshpande said all the witnesses would be examined and cross-examined again during the trial which would be fast-tracked, reports the Press Trust of India.
The judge asked the prosecution and defence to submit their lists of witnesses on 23 December after which a date for the fresh trial would be fixed, the agency reported.
'Delaying tactic'
Late on the night of 28 September 2002, Khan's Toyota Land Cruiser rammed into the American Express bakery in the Bandra area of Mumbai, authorities say.
The vehicle ran over five people sleeping on the streets, killing 38-year-old Noor Ullah Khan and seriously injuring three others. Another person received minor injuries.
Khan was initially charged with culpable homicide for which he could face a jail term up to 10 years, but he successfully challenged that charge in court and it was reduced to "causing death by negligence" which carries imprisonment for two years.
But in March 2011 the prosecution asked for the more serious charge to be reinstated.
In February this year, the court ruled that the actor should be tried for "culpable homicide not amounting to murder" and he was charged in July.
The actor asked for a fresh trial in November on the grounds that the evidence presented earlier should be discarded as he was now facing a more serious charge. The prosecution called it a "delaying tactic."
There have been several complaints about delays to the trial - the case has stretched on for more than a decade and legal experts say Thursday's order will draw out the process even further.