India parliament key winter session opens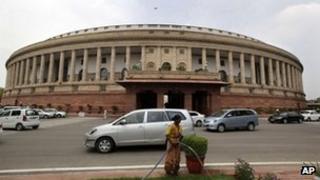 India's parliament has begun a winter session where the government will seek to push several key bills.
These include a bill to appoint an independent ombudsman to prosecute politicians and civil servants suspected of corruption.
Another bill reserving a third of all seats in the parliament and state legislatures for women is also pending in the lower house since 2010.
The 12-day session may be extended to help discuss the planned bills.
With 38 bills expected to be tabled, MPs have agreed to an extension of the session, reports say.
"There is unanimity among parties for extending parliament session concluding on 20 December after a one-week break," opposition leader Sushma Swaraj was quoted as saying by the state-run Doordarshan News.
Correspondents say the opposition also plans to raise the security situation in the country, crimes against women and religious riots in the northern state of Uttar Pradesh.