Q&A: Arundhati Roy on India editor 'sex case'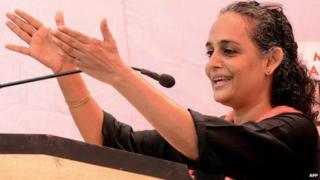 Tarun Tejpal, the former editor of India's top news magazine Tehelka, has been arrested after allegations from a colleague that he sexually assaulted her. Mr Tejpal has not been formally charged yet and he denies the accusations against him. Booker Prize-winning author and activist Arundhati Roy, a long-time acquaintance of Mr Tejpal, speaks to the BBC's Sanjoy Majumder about the case.
Q: What was your reaction when you first heard about the accusations against Tarun Tejpal, as someone who knows him and is familiar with Tehelka?
A: Heartbreak. I think all of us are already braced for what we know is going to be mass hysteria in the media in which everybody is just not given time or place to think.
The fact is that what has been alleged against him is a pretty serious crime and you do have to admire the fact that a young colleague did have the courage to stand up and say what happened to her which isn't normally the case.
Yet, because of what happened in the [Delhi] gang rape last December, there is a lynch mob that is howling in a maximalist way. I think what we miss is a real addressing of the problem. On the one hand we are talking about sexual harassment, molestation and rape being a phenomenon which very many women go through. Is this media hysteria going to address the problem?
Q: Are you surprised at the reaction given the reality of what women face?
A: On the one hand you have a country most of whose population lives in a feudal, patriarchal past where Dalit [formerly untouchable] women are raped by upper-caste men which has been seen as their right.
Then you have the phenomenon that women are changing much faster than men, entering the workplace in great numbers, are empowered, are changing the way they dress, the way they stand, the way they look and what they expect, and that is creating a new kind of violence against women.
Then you have the violence against women in militarised areas like Manipur, Kashmir, Chhattisgarh. And the same people who are outraged at what happened with Tarun Tejpal and his young colleague are not outraged by what is happening systematically in those places.
Women have fought for the expansion of the legal definition of rape and I think that is a work in progress.
It is an un-nuanced law - some parts are good and some are draconian.
By expanding the law and cranking up the punishment what you are getting is a lynch mob after a few high-profile cases - but the phenomenon is not being addressed.
Q: Are you suggesting that this is an issue that the law cannot completely address?
A: I'm partly suggesting that. There has to be an institutionalised way of addressing this which cannot just be crude. Everyone cannot be sentenced to death or life in prison or hounded in the public eye. We need to calibrate our responses, calm down and think about it a bit.
Q: How do you think you can do this while also delivering justice to a victim?
A: If we could put these systems in place then victims can also make their own decisions to a great extent of whether they want to go to a court of law or address it in a different way. The building blocks are in place but need to be more civilised.
Arundhati Roy's first and Booker Prize-winning novel The God of Small Things was published in India by India Ink, a publishing house set up by Tarun Tejpal and Sanjeev Saith. It was later acquired by Roli Books.