India Maoist attack kills six policemen in Bihar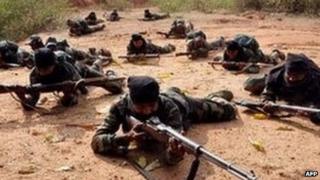 At least six policemen have been killed in an attack by suspected Maoist rebels in the northern Indian state of Bihar, police said.
The policemen were killed when their jeep was blown up in a landmine blast in Aurangabad district.
Bihar, along with several other states in central and eastern India, is a stronghold of the rebels.
The Maoists say they are fighting for communist rule and greater rights for tribal people and the rural poor.
The Maoist insurgency, which began in the eastern state of West Bengal in the late 1960s, has spread to more than one-third of India's more than 600 districts.
Prime Minister Manmohan Singh has described it as the country's "greatest internal security challenge".
Big military and police offensives in recent years have pushed the rebels back to their forest strongholds, but attacks are still common, killing hundreds of people every year.
In May, the rebels attacked a Congress party convoy, returning from a campaign rally, in the central state of Chhattisgarh, killing 28 people, including several senior state party leaders.
In one of their most audacious attacks in April 2010, they killed 76 people, including 74 paramilitary troops.