India editor Tarun Tejpal arrested after bail rejected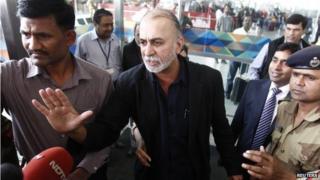 The editor of a prominent Indian news magazine has been arrested over sexual assault allegations, after a court rejected an extension of his bail.
The judge declined to extend Tarun Tejpal's earlier "pre-bail" award, which had temporarily lifted the threat of arrest.
Mr Tejpal has not been formally charged but denies the accusations against him.
His unnamed accuser has said what he did "falls within the legal definition of rape".
She initially levelled claims against Mr Tejpal in the media following the alleged incident at an event organised by the Tehelka magazine in Goa earlier this month.
This prompted police to launch an investigation with which she is now co-operating.
Six journalists, including the managing editor of the publication, have resigned over the controversy.
No 'easy battle'
Under Indian law, pre-trial bail can be sought if an individual fears possible arrest.
Mr Tejpal was taken into custody within an hour of the court in Panaji, Goa, issuing its ruling.
The prosecution argued that Mr Tejpal should be arrested so he could be properly interrogated and his version of events cross-checked.
His lawyer argued that Mr Tejpal had agreed to abide by court-dictated conditions including the surrender of his passport if pre-bail was extended.
Geeta Luthra argued that Mr Tejpal was at risk of "humiliation and disgrace" if arrested.
The scandal has been dominating headlines in India, with critics accusing Tehelka magazine - one of India's top investigative titles, which has exposed gender inequality and officially sanctioned misogyny - of hypocrisy and double standards, say correspondents.
The case has resonated with particular force following the emotive case of a woman who was brutally gang raped and murdered in Delhi last year.
In a statement released to media, Mr Tejpal's accuser rejected claims her complaint was part of a "pre-election political conspiracy".
"By filing my complaint, I have lost not just a job that I loved, but much-needed financial security and the independence of my salary. I have also opened myself to personal and slanderous attack.
"This will not be an easy battle," she said.