Tehelka's Tarun Tejpal gets bails in sex assault case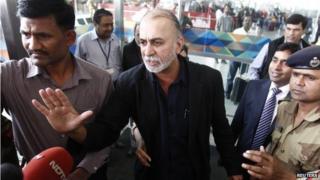 The editor of a prominent Indian magazine who is accused of sexually assaulting a female colleague has been granted bail by a judge in Goa state.
Earlier this week Tarun Tejpal stepped down from his position at Tehelka magazine over the allegations.
The alleged incident happened earlier this month in Goa, where the magazine held an annual conclave.
Mr Tejpal has denied the charges. The victim has accused the magazine of covering up the assault.
Six journalists, including the managing editor of the publication, have resigned over the controversy.
Mr Tejpal was summoned to appear before police in Goa for questioning after his female colleague began co-operating with the police inquiry. He has not been formally charged.
A court in Goa granted his appeal for pre-trial bail on Friday, allowing him to go free until at least 1000 (0430 GMT) on Saturday when hearings will resume.
Under Indian law, an individual can seek pre-trial bail in anticipation of a possible arrest.
Mr Tejpal's lawyer, Geeta Luthra, addressed the judge in court and promised that the 50-year-old would appear in court personally on Saturday.
"[He gets] interim relief from arrest till 10 am tomorrow, when the case will be heard again," judge Anuja Prabhudessai ruled.
Earlier on Friday police arrived at Mr Tejpal's house in Delhi apparently to question him, but did not find him there.
The alleged incident happened earlier this month while newsmakers and celebrities from around the world attended the magazine's annual conclave.
Standing aside last week, Mr Tejpal said a lapse of judgement and a misreading of the situation "led to an unfortunate incident that rails against all we believe in and fight for".
The woman victim, who has since resigned from the magazine, has said that what took place was of a much more serious nature than admitted by Mr Tejpal,
But correspondents say exactly what happened remains unclear.
On Thursday, Shoma Chaudhury, managing editor of Tehelka magazine, resigned saying it was a "damaging time" for the publication.
The scandal has been dominating headlines in India, with critics accusing the magazine - one of India's top of investigative titles - of hypocrisy and double standards.