Hemraj: Uncertain future for family of India double murders forgotten victim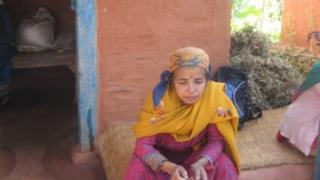 Last week an Indian couple was sentenced to life in prison for murdering their daughter, Aarushi Talwar, and their Nepalese servant, Hemraj Banjade. The murders generated huge interest in India, but the focus was on the teenage girl and her parents. BBC Nepali's Sanjaya Dhakal and Madhav Nepal met the family of the "forgotten victim".
With winter approaching and the results of Nepal's recent election results fresh in the mind, the residents of the western district of Arghakhanchi have been mostly engaged in intense debates on which party will rule Nepal.
But last week, the topic of their discussions suddenly moved to a verdict in a murder case passed by a court in the faraway Indian capital, Delhi.
Dentist couple Rajesh and Nupur Talwar were found guilty of murdering their 14-year-old daughter Aarushi Talwar and their 45-year-old servant Hemraj. Suspicion initially fell on Hemraj until his bludgeoned body was found on the Talwars' roof just one day later.
Prosecutors alleged that the Talwars killed their daughter in rage when they found her in a compromising situation with Hemraj.
The reason why residents of Arghakhanchi have been discussing the verdict is because Hemraj hails from the tiny village of Dharapani, which lies some 400km (250 miles) west of the capital, Kathmandu.
'Innocent'
Hemraj's family and neighbours feel the verdict has only confirmed what they had been saying all along - that he was an "innocent victim".
"We remember Hemraj as a honest and simple person. We were surprised when his name got tarnished in this case," said Sagar Kesi, a neighbour.
Nestling in the high hills, the Dharapani is a typical Nepalese village where neighbours are close and people go about their lives indifferent to the outside world.
Dumper trucks carrying construction materials are building a road that will link Arghakhanchi with the neighbouring district of Pyuthan.
Walking down the slush-filled road, we arrive at Hemraj's house. It is modest and has a tin roof.
Inside, his wife Khumkala Banjade is cooking rice and lentils on a stove.
She has a pained look when we ask about the Delhi court's decision.
Khumkala, 46, suffers from arthritis. She has been facing hardships ever since that fateful day five years ago when her husband was killed in his employer's home in Noida, an affluent suburb of Delhi.
Despite her satisfaction with the verdict, she is worried about the future of her son.
Khumkala says Hemraj used to send about 3,000 Indian rupees ($48; £29) every month to the family to help run her house. Since his death, her family has run into severe financial difficulties, she says.
Struggling
"We have a very small plot of land. The crop is not enough to sustain us for even two months. I have been depending on my parents for our expenses," she said.
Hemraj's death has also shattered the lives of his teenaged son, Prajwal, and his ailing 78-year-old mother Krishnakala Banjade.
Krishnakala is a reticent woman, but her eyes well up when we begin talking about her son.
"I had wanted to build a shed and buy a buffalo. He used to send some money. But now we are helpless."
Prajwal Banjade, who lost his father when he was 12, suffers from asthma and is anxious about his future.
"I don't know what I am going to do after school. Let's see what the future has in store," he laments.
If Prajwal follows the example of other young men in his village when he grows up, he could end up crossing the border and working in Delhi or any of other vast, Indian cities.
That would be a move that he would have every right to feel extremely nervous about.