In India men are men but women are often 'girls'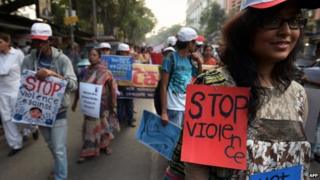 You can't visit an Indian website or watch TV news at the moment without reading about one of several assault or harassment cases.
One clear change since the outcry over last December's fatal gang rape in Delhi is that the media now devotes much more space to such stories - even without the current spate of high-profile cases.
But what also stands out is that the victims are almost always described as "girls" - even when they are much older than 18.
Some see this "default thinking" as symbolic of to what extent attitudes towards women remain in the past.
The three cases currently getting the most column inches are a perfect example. The accused are, respectively, a well-known magazine editor, a well-known prime ministerial candidate and a prominent, though-so-far-unidentified, retired Supreme Court judge.
The Times of India uses the word "girl" as a standard term for the journalist who has accused the Tehelka editor-in-chief of twice assaulting her earlier this month - even though she's known to be in her late-20s.
"Girl was extremely close to Modi" begins the headline on a TV news piece about the case of a 27-year-old woman allegedly subjected to intrusive surveillance on the orders of the man running to be India's next leader.
Then there's the former judge who allegedly harassed two interns in their 20s but who are again mostly described as "girls".
It was the same in the reporting on the Delhi gang-rape, with the 23-year-old victim habitually dubbed a girl.
There are exceptions, with "woman", or "young woman" making an occasional appearance but "girl" is what you mostly see and hear - from both men and women.
To an outsider, the language can strike a discordant note: if all the victims in these cases were males they would never be described as boys.
Rising confidence
The simple explanation is cultural. "In colloquial Indian parlance, you are a girl until you get married - only then do you become a woman", says Winnie Singh, whose Maitri charity supports female victims of violence.
But in itself, that illuminates deep-seated patriarchal views about women and their role, argues Delhi-based lawyer Rebecca John, who has represented many rape victims.
"It is a sign of default thinking about women" she says, "and at best it is extremely patronising".
There is no language even remotely comparable for men and boys.
This difference is "symbolic of the inequality of women," agrees Vrinda Grover, a prominent human rights lawyer.
"Calling the victims 'girls' also feeds into the myth that they need protecting and can't stand up for themselves," she says.
On the other hand, it also implicitly undermines them, says Winnie Singh. "By calling someone a girl, we are suggesting her judgement and testimony doesn't have the same weight, because she is not seen as an adult."
But just to complicate things further, she says many young women she works with "do not want to be called 'women' either" because that implies they are less independent.
All this language is likely to come under mounting challenge.
If there is another major change since the Delhi gang rape, it is that more women are now speaking out, if they are harassed or attacked.
One positive many commentators see in the Tehelka case is that the journalist's stand will set an example to other women who fear coming forward.
The survivor of the recent Mumbai rape case was also widely praised for reporting the crime - surprising even her alleged attackers by doing so.
But there's a long way to go, argues Rebecca John. "India is still not confident about dealing with these newly confident, independent women," she says.
"We are a society that is completely confused about what role we want women to play."
It seems a paradox in a country that elected its first female leader long before other major democracies and whose most powerful figure today is a woman.
There is one way you can ensure you will be called a woman in India if you are un-married, jokes Winnie Singh sarcastically: "Once you get grey hair."