Indian south-eastern states braced for Cyclone Lehar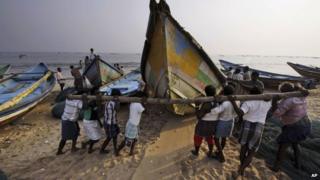 A powerful cyclone is headed for India's south-eastern coast with winds up to 120mph (200kmph) and heavy rain, the meteorological department has said.
Thousands of people were evacuated from coastal areas in advance of the storm and relief workers have been deployed.
Cyclone Lehar is expected to trigger storm surges of up to 3m (9ft), with Andhra Pradesh's coast to be worst hit.
At least 27 people died when a stronger cyclone, Phailin, hit India's eastern coast last month.
The meteorological department has classed Cyclone Lehar as "severe" and said it would hit mainly hit the coastal regions of Andhra Pradesh and Orissa states.
Nine coastal districts of Andhra Pradesh are likely to be the worst affected by the storm, reports say.
Andhra Pradesh relief commissioner Partha Sarathi told the BBC that 150,000 people have been evacuated from 140 coastal villages in east and west Godavari districts.
Schools and colleges are closed and fishermen have been warned against going out to sea.
Some 400 soldiers, 15 emergency response teams and four helicopters have been deployed in the region, Mr Sarathi said.
Last month Cyclone Phailin destroyed tens of thousands of homes, uprooted trees and blocked roads in the states of Orissa and Andhra Pradesh.
Hundreds of thousands of people were evacuated ahead of Phailin, which was classified as a "very severe" cyclone.