Profile: Magnus Carlsen, chess world champion
By David Edmonds
BBC News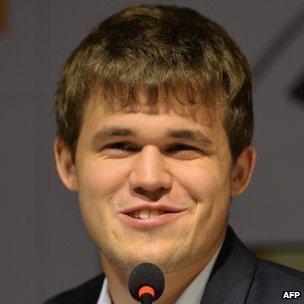 "I just try and make the best moves."
Magnus Carlsen, the new world chess champion, makes it sound so simple. But the possibilities in chess are almost infinite, and quite how he routinely - and apparently so effortlessly - identifies the best moves, fills the chess world with awe.
His chess genius has been recognised virtually from the moment he first learnt the moves, watching one of his two sisters play.
By the age of 10, he was winning tournaments. He has since played chess almost daily for hours.
He became a grandmaster, the top title in chess, aged 13 - at the time the second youngest to achieve this.
That same year he drew with Gary Kasparov, who many regard as the greatest player ever.
But that reputation may pass to Carlsen.
Chess has a numerical rating system. The Norwegian now has the highest rating in history, and he's only 22: it is probable that over the next few years he'll get even better.
There is talk of him storming through the 2900 Elo rating barrier: in chess that would be a psychological breakthrough roughly equivalent to when Roger Bannister broke the 4-minute mile.
But if we want to characterise Carlsen's chess style, we should turn to another sporting analogy.
At his peak, Roger Federer was the complete tennis player. He had an astounding forehand and backhand, he could serve, volley and smash.
Carlsen is the complete chess player. He is brilliant at strategy as well as tactics: he has mastery of the opening, the middle game, the endgame.
His memory is prodigious, almost photographic. He is said to hold 10,000 games in his head. He can play 10 games blindfold (without looking at the boards).
He's also physically fit - an essential ingredient to his success. Concentrating for hours at the board is - non-chess players may be surprised to hear - physically draining.
Carlsen enjoys long games, grinding out victory after victory as he slowly, inevitably, wears down his opponents.
That discipline and competitiveness is another vital component in his emotional make-up.
American world champion Bobby Fischer said he enjoyed the moment when he could sense the ego of his opponent crumble.
And, clearly, Carlsen also relishes the psychological warfare.
When Fischer beat Boris Spassky in 1972 it captured headlines around the world and chess became - briefly - sexy and wildly popular.
That match caught the imagination in part because of the political overtones: the lone American taking on the might of the Soviet chess machine, and also because of Fischer's antics and eccentric, mercurial personality.
Carlsen's victory against Anand has garnered more coverage than any title match since the end of the Cold War.
Still, it seems unlikely that chess will take off as it did after the Fischer-Spassky match. For one thing, Carlsen is down-to-earth, unassuming - he does not have Fischer's mesmerising presence.
Nonetheless, he is young, cool and handsome, and the chess world hopes that he will inspire youngsters to take up the game.
Carlsen himself, already a millionaire, can expect to cash in. He has already done a fair amount of modelling - some for a Dutch clothing company, whose brand manager Cherbanker Ray described Carlsen as looking like a "cross between a boxer and a '50s gangster".
In the world of chess, Carlsen's victory marks the arrival of a new generation.
Vishy Anand is almost twice Carlsen's age - and several of the world's elite players are, like Carlsen, in their early 20s.
Still, none is in Carlsen's league. The new king of chess could occupy the throne for years to come.
David Edmonds is co-author (with John Eidinow) of Bobby Fischer Goes To War