Papers shine spotlight on women's safety as editor faces sex assault allegations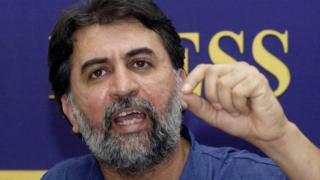 Media in India are calling for stricter implementation of the existing guidelines on women's safety in offices after a senior editor stepped down from his post over allegations of sexual assault.
Tarun Tejpal, who edits the weekly Tehelka, said he was "recusing" himself from his job for the next six months to "atone" for an "unfortunate incident" that involved a female colleague.
The alleged victim's unidentified confidante told the NDTV news channel that the woman had been subjected to "an act of grave sexual misconduct" and that she was "completely shattered and emotionally scarred".
The government of Goa state, where the alleged incident happened in early November, has now ordered a "preliminary inquiry" into the allegations, reports say.
Papers are urging all organisations, including media houses, to set up bodies in compliance with government guidelines to ensure women's right to work in an environment "free of sexual harassment".
"Several disturbing cases of alleged sexual harassment at the workplace have been aired recently, all of which involve senior men in positions of power making advances on vulnerable young women," The Times of India says.
The paper further adds that "sexual harassment gives rise to a workplace that is hostile to women. It amounts to sexual discrimination that is punishable by law… Only institutional checks can address such power imbalances".
"The enormous outrage that the case has generated has made it clear that men within the media, like their counterparts in the judiciary and indeed in organisations across the country, need to understand that, given the Indian feminist resurgence post the 16 December gang rape case, the era of loose talk and inappropriate behaviour in the workspace has well and truly passed", the Hindustan Times says.
Legal action?
Some papers and analysts are saying Mr Tejpal's decision to step down voluntarily is not enough and he must face legal charges for the alleged incident.
The Indian Express says "emails and penance isn't due process. Tehelka's editor is accused of breaking the law, he needs to face it".
"He will have to face a trial in the court. Tarun Tejpal is no God to decide his own course of punishment," the NDTV website quotes Mamata Sharma, the chief of the National Commission for Women, as saying.
Tehelka, however, says it is not trying to cover up the matter and an institutional committee has been formed to look into the charges against Mr Tejpal.
"It (Mr Tejpal's decision to step down and his apology) was an institutional response that she was wanting and so I did. Now that she was not satisfied with the action, a committee has been formed to look into it," the magazine's managing editor Shoma Chaudhury told journalists on Thursday morning.
Unique paper
Moving on to other news, in a unique initiative, a group of women in a village in the central state of Madhya Pradesh are generating awareness on social issues through a handwritten newspaper produced every month, reports The Times of India.
The paper is distributed in government offices, police stations among other places in Dabhora village of the state, it says.
This month's special report focuses on the right to vote and reminds people to cast their ballot without being influenced by freebies, the paper adds.
In entertainment news, the 44th International Film Festival of India began in the western state of Goa on Wednesday with a ceremony to mark 100 years of Indian cinema, The Deccan Chronicle reports.
Noted Hollywood actress Susan Sarandon, Iranian director Majid Majidi and Polish film maker Agnieszka Holland were also present at the function.
And finally, good news continues for cricket fans as India registered a six-week victory over the West Indies in their first one-day international match in the southern city of Kochi on Thursday, reports The Hindu.
BBC Monitoring reports and analyses news from TV, radio, web and print media around the world. For more reports from BBC Monitoring, click here. You can follow BBC Monitoring on Twitter and Facebook.