India activist Arvind Kejriwal 'forgives' ink thrower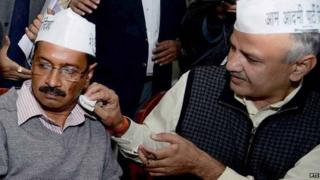 India's leading anti-corruption campaigner Arvind Kejriwal says he has forgiven a man who threw black ink on his face during a meeting.
Mr Kejriwal heads the Aam Aadmi Party (AAP) - or Common Man Party - that is contesting upcoming elections in Delhi.
The man who threw ink at Mr Kejriwal claimed that he had betrayed campaigner Anna Hazare, with whom he had begun a protest against the government.
But the two parted ways over Mr Kejriwal's plans to enter politics.
The man, identified as Nachiketa, walked into a press conference being addressed by Mr Kejriwal and threw ink at the campaigner.
He claimed that he was a BJP worker and then had been associated with Mr Hazare's anti-corruption protest.
"Mr Hazare asked Mr Kejriwal and his people to stop using his name, but they repeatedly do that. They are a blot on the face of our nation and have betrayed Anna Hazare," Mr Nachiketa was quoted as saying by The Hindu newspaper.
The Delhi police arrested Mr Nachiketa late on Monday night and registered a case against him.
Mr Kejriwal has now tweeted that he had forgiven Mr Nachiketa. "I have no ill will against him. He seems to have some misconceptions about us."
"We wish to alter this politics of violence and revenge," he tweeted.
'Full of dirt'
A former bureaucrat, Mr Kejriwal won the Ramon Magsaysay award in 2006 for social work and initiatives to fight corruption.
Three years ago, the 44-year-old set up a group called India Against Corruption aimed at putting pressure on the government to bring about tough anti-corruption laws.
The movement was led by campaigner Anna Hazare through a series of hunger strikes and protests.
But the two campaigners parted ways over Mr Kejriwal's plans to enter politics, with Mr Hazare saying he preferred "sacred" protest over politics, "which is full of dirt".
Both are demanding the appointment of an independent ombudsman to prosecute politicians and civil servants suspected of corruption.
The idea was passed by the lower house of parliament in the form of the Lokpal bill in December 2011.
But the upper house adjourned amid chaos without passing the controversial legislation.