How will India cope with life after Sachin Tendulkar?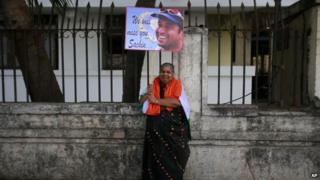 Cricket legend Sachin Tendulkar has played his last international game for India. Author and politician Shashi Tharoor writes about how India and its cricket will cope with life without him.
Five decades ago, as India's first prime minister, Jawaharlal Nehru, began visibly ailing, the nation and the world were consumed by the question: "After Nehru, who?"
The inexpressible fear lay in the subtext to the question: "After Nehru, what?"
Today, cricket-crazy India and lovers of the sport across the world find themselves asking a similar question, in the same hushed and anxious tones, "After Tendulkar, who?" and indeed, about India, "After Tendulkar, what?"
Nehru had been India's prime minister for 17 years before his ill-health and demise; Tendulkar was India's batting mainstay for 24 years before announcing his departure.
If Nehru had so dominated the nation that it was difficult to imagine India without his leadership, his vision and his almost messianic sense of national destiny, so too had Tendulkar's conquest of almost all the major batting records made India feel that he was both irreplaceable and the guarantor of India's survival at the top of the world game.
Position of strength
But Tendulkar is finally leaving cricket after his 200th Test match, and it is time to face the reality of life after Sachin. And this, somewhat to our surprise, seems to be not quite so bad after all.
His last few Test matches have seen Tendulkar outshone by batsmen who were toddlers when he began his record-breaking career: Shikhar Dhawan, who scored the highest and fastest century by an Indian debutant; Cheteshwar Pujara, whose solidity and consistency have made him the envy of his seniors; Virat Kohli, whose record is, blasphemously, better than Tendulkar's was at the equivalent stage of his career; and Rohit Sharma, whose mature match-winning century came after Tendulkar had failed to make an impression in his 199th Test match.
Suddenly Tendulkar no longer looks irreplaceable. If anything, the Tendulkar of today pales by comparison with the rampant 20-somethings around him.
What is more, if Tendulkar triumphed amid adversity, conquering the world from a position of weakness and carrying a modest side on his shoulders, his successors dominate from a position of strength.
Tendulkar earned India the right to be thought of as world-beaters; today's young batsmen take that for granted, approaching the rest of the world with a buccaneering swagger that his earlier triumphs have made possible.
Tendulkar found allies in a doughty cohort; his successors hunt confidently in packs.
If Sachin, Dravid, Sehwag and Laxman built the platform for Indian success in the first decade of the 21st Century, Kohli, Pujara, Dhawan and Sharma have a good chance to raise an even taller edifice on the foundations they laid.
Tendulkar has made Indians accustomed to victory, and these young men now approach the game he conquered with the confidence of those who have sauntered through the doors that he prised open for them.
Tendulkar was the icon of emerging India, a nation finally showing its potential on the world stage. He departs from an India that has fully emerged.
Elevated to God
Tendulkar made his debut in an India still poor, marginal, and self-protectionist. He retires in an India enriched by 20 years of rampaging growth, a country whose burgeoning population and thriving economy has made it the superpower of world cricket, accounting for 90% of the global game's revenues.
A weak, insecure nation needs sporting heroes, players larger than life on the cricketing field, who can transcend the limitations of their country and team.
Tendulkar was the diminutive colossus who showed his countrymen that an Indian, too, could be the world's best. He was elevated to God in the country's cricketing pantheon.
But the confident India of 2013, with a stronger economy that carries more weight in the world, an India wooed and courted by global leaders, doesn't need a God to project its capabilities. Mere mortals are good enough to win when winning comes naturally.
Today's India has taken its measure of the world and decided it is more than capable of handling any challenge. Thanks, Sachin, the nation says: you have been an inspiration, but we don't need you any more.
So the question "after Tendulkar, who?" prompts a paradoxical answer. It no longer matters "who": the mantle can and will be taken on by many.
Tendulkar, the batsman who defined cricket for an entire generation of Indians, has also redefined the terms in which Indian cricket will now be seen.
Thanks to his extraordinary achievements, he has raised the bar for all who have followed him. He came in when a heroic defeat was more common than a blazing triumph. He leaves having made winning the new normal.
That is the transformation wrought by the Tendulkar era. After him, Indian cricket will never be the same again.