Indian media: Tendulkar's legacy to live on in a billion hearts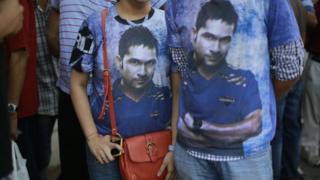 Media in India feel master batsman Sachin Tendulkar's legacy will remain etched in the collective memory of a billion people.
The star is playing his last and 200th Test match against the West Indies in his home city of Mumbai as papers, websites and TV channels continue to discuss the "momentous occasion".
Tendulkar, however, missed scoring a 100 in his final match as the West Indies spinner Narsingh Deonarine dismissed him for 74.
The NDTV website says "athletes come, athletes go. But Sachin Tendulkar will live on".
"There are and always will be other great cricketers. But 99.9% of them will fall short against the benchmark that was Tendulkar. New stars will come and go. But in 10, 20 or 30 years, cricket fans will still be saying - 'you should have seen God'", it adds.
The Economic Times says "no one can succeed Tendulkar, of that there are no two opinions".
"No one can replace him - not at No. 1 or No. 2 in the one-day international batting line-up, not at No. 4 in the Test order, not in the hearts of the people, not in the impact he makes on his teammates, on the opposition, on the fans at the ground, on television viewers across the globe," the paper adds.
Such is the impact of Tendulkar's popularity in India that visiting British Prime Minister David Cameron is getting low-key coverage in the media.
And even Mr Cameron could not stop himself from commenting on a chapter of history that is being scripted in Mumbai.
"It is the right time to be in India. The little master is going to bat in his final Test for India...He is great, there can be no doubts on that," The Business Standard quotes him as saying.
Financial daily Mint says Tendulkar's brand value is not likely to be diminished after his retirement.
"Tendulkar is all set to hang up his boots, but brand managers across categories are working the numbers to see how they can extend their association with the cricketer," it says.
Short supply
Meanwhile, textbook syllabus of junior school classes in the northern Indian state of Punjab will not have words like "angels and devils" in a bid to curb superstition in society, The Asian Age reports.
The Punjab School Education Board has decided to "promote rational thinking and avoid superstition", it says.
And finally, the sale of salt shot up in the eastern state of Bihar after rumours of short supply in some cities and towns, The Times of India reports.
Though the state government denied any shortage, shopkeepers had a field day and sold salt at much higher prices, it says.
BBC Monitoring reports and analyses news from TV, radio, web and print media around the world. For more reports from BBC Monitoring, click here. You can follow BBC Monitoring on Twitter and Facebook.