Indian media praise Sachin's extraordinary career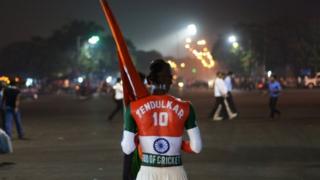 Media are highlighting the extraordinary tale of legendary Indian cricketer Sachin Tendulkar that began its final chapter on Thursday.
The man they call the "Master Blaster" is playing his final and 200th Test match in his home city of Mumbai after serving the game for more than two decades.
Papers have devoted several pages to the batsman and TV channels are doing the wall-to-wall coverage of his "last hurrah".
While their content is vivid and different, papers and TV channels overwhelmingly agree that there will never be another Tendulkar.
"Cricket-crazy India will have a lump in the throat as its favourite son walks out for one last time this week to play the game he has dominated for nearly a quarter of a century," says the DNA newspaper.
The NDTV website predicts that "Indian cricket is set to feel quite poor once its most loved and revered player hangs up his gloves".
In this report, the CNN-IBN website publishes a timeline of the maestro's illustrious career.
Thank you Sachin
A simple message of thank you is also present in every web, TV and print report published on the "cricket magician's" career.
Writing in the The Times of India, captain Mahendra Singh Dhoni says, "A billion people, including Sachin Tendulkar himself, face their moment of truth on Thursday".
"As the little great man of Indian cricket plays his last Test match, an entire nation is ready to bid an emotional farewell to the cricketer who has given them unbridled joy for well over two decades," he adds.
The Indian Express says Tendulkar "will do something he has never done: crossing the white line never to return again" when he plays his final innings.
"At the Wankhede, the crowds will rush to take their seats so they can rise for that familiar ovation, one last time," it adds.
The Hindustan Times says Thursday marks the start of Tendulkar's milestone 200th Test, and brings to a crescendo the unprecedented ceremony to bid farewell to the most iconic cricketer of the modern era.
'Gave my best'
Newspapers are also commenting on the grand preparations in Mumbai for the master's last match.
The NDTV website says it will be a "farewell to remember" for "the man called the God of cricket".
Tendulkar is known for his ability to distance himself from the world and concentrate on his strategy during matches.
But this occasion seems different as the cricketing star took to Twitter to thank his fans.
"I am really touched with ThankYouSachin messages. Your support all these years have inspired me to give my best," he tweeted.
Moving on to some other stories, all states in India with international borders have been put on alert to reduce the risk of "poliovirus importation" following a polio outbreak in Syria, The Hindu reports.
"While India has stopped poliovirus transmission, the risk of importation of polio from areas with currently active transmission remains very high," World Health Organisation's Representative to India Nata Menabde said.
And finally, India is set to overtake US as the second largest internet base in the world after China by June 2014, a recent study says.
India will have 243 million internet users by June next year, as against 205 million in October 2013 and 190 million in June 2013, according to a report by industry body Internet and Mobile Association of India.
BBC Monitoring reports and analyses news from TV, radio, web and print media around the world. For more reports from BBC Monitoring, click here. You can follow BBC Monitoring on Twitter and Facebook.