India unveils metro service in Gurgaon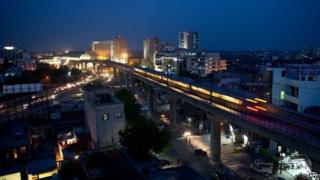 A long-awaited metro rail service has been launched in the suburb of Gurgaon near the Indian capital, Delhi.
The 5.1km (3.16-mile) stretch of elevated track has six stations and is the first one in India built by a public-private partnership.
The journey through Gurgaon's congested business district will take 13 minutes - residents hope it will ease traffic congestion in the area.
Gurgaon is home to a number of multinational companies.
The metro was planned in 2009 and work began on it in 2010.
The first section of the metro is part of a proposed 12km (7.45-mile) network with an equal number of stations which is due to be completed by 2015.
The service would be open to commuters from Thursday morning, officials said.
Gurgaon is already connected to Delhi by the capital's metro service.
Described as India's "millennium city", Gurgaon has been transformed from farming fields to a bustling technology hub, thanks to the call centre and outsourcing industries.
However, its success has come with little support from government and the city lacks adequate public transport and sanitation facilities.
Officials say more than 200,000 vehicles enter and exit Gurgaon every day crowding the existing connecting roads and an expressway linking the suburb with Delhi.
They predict about a third of the existing traffic will shift to the metro, easing congestion on Gurgaon's roads and reducing travel time and road accidents.