India official Ranjit Sinha regrets 'rape' remark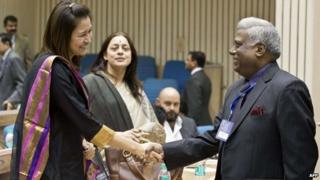 The chief of India's top investigation agency has said he regretted his remark on rape after criticism from women's groups.
Ranjit Sinha made the remark while speaking on illegal sports betting.
"If you cannot enforce the ban on betting, it is like saying 'if you can't prevent rape, you enjoy it'," he said at a meeting on sports ethics.
Women leaders like Brinda Karat of the Communist Party of India (Marxist) said Mr Sinha's remarks were "shocking".
Mr Sinha, the director of Central Bureau of Investigation (CBI), later said he regretted "any hurt" caused by his "inadvertent and unintended remarks".
"I gave my opinion that betting should be legalised and that if the laws cannot be enforced that does not mean that laws should not be made. This is as erroneous as saying that if rape is inevitable one should lie back and enjoy it," he said in a statement on Wednesday.
"I regret any hurt caused as the same was inadvertent and unintended. I reiterate my deep sense of regard and respect for women and commitment to gender issues."
Women activists had criticised Mr Sinha's comments and demanded that he resign.
'Malicious propaganda'
"It is sickening that a man, who is in charge of several rape investigations, should use such an analogy. He should be prosecuted for degrading and insulting women," Ms Brinda Karat told The Hindu newspaper.
Ranjana Kumari of the Delhi-based Centre for Social Research told The Hindustan Times newspaper that "such a senior police officer... should not have passed such a remark".
"It is not acceptable and he should apologise for it. It has become a habit of people in senior positions to treat the issue of sexual assault lightly."
Activist Kavita Krishnan told the BBC Hindi that if the head of India's main investigating agency "doesn't understand the difference between rape and enjoyment, then he should step down from his position".
On Tuesday, Mr Sinha told The Hindustan Times that he was "using a proverb" to "make a point" about "how difficult it was to enforce a ban on betting".
"[The reaction to the remark is] malicious propaganda, it's hitting below the belt, and it's unfair," he told the newspaper.
The issue of sexual violence against women in India has been under intense scrutiny since the gang rape and murder of a student on a Delhi bus in December led to widespread protests.