India Supreme Court investigates ex-judge for sexual harassment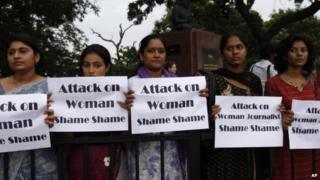 India's top court has set up a panel to investigate a law graduate's allegation that she was sexually harassed by a recently retired Supreme Court judge.
"The committee will... find out the facts and prepare the report," Chief Justice P Sathasivam said, when announcing the panel of three judges.
The graduate, Stella James, posted a blog last week describing how the judge assaulted her in a Delhi hotel room.
She said it happened last December when she was an intern with the judge.
"We cannot take it lightly. As the head of the institution, I am also concerned about the allegation and anxious whether the statement is true or not," Chief Justice Sathasivam said in his order on Tuesday.
The three-member committee is headed by senior Justice RM Lodha and includes Justices Ranjana P Desai and HL Dattu.
A BBC correspondent says the serious charges, levelled by the young lawyer against the unnamed judge, have shocked India, particularly as the incident reportedly took place at a time when the country was witnessing huge protests over the fatal gang rape of a student in Delhi.
That case forced the Indian government to strengthen its sexual violence laws.
'Strange irony'
"Last December was momentous for the feminist movement in the country - almost an entire population seemed to rise up spontaneously against the violence on women, and the injustices of a seemingly apathetic government," Ms James wrote in her blog on 6 November for Journal of Indian Law and Society.
She went on to say that as an intern she dodged the protest barricades during that winter vacation in her final year at university to work for a "highly reputed, recently retired Supreme Court judge".
"For my supposed diligence, I was rewarded with sexual assault (not physically injurious, but nevertheless violating) from a man old enough to be my grandfather. I won't go into the gory details, but suffice it to say that long after I'd left the room, the memory remained, in fact, still remains, with me."
On why she went public with the incident several months after it occurred, Ms James, now a lawyer with a non-governmental organisation, wrote that although she "bore, and still bear, no real ill-will towards the man, and had no desire to put his life's work and reputation in question", she felt "a responsibility to ensure that other young girls were not put in a similar situation".