Indian media praise high voter turnout in violence-hit Chhattisgarh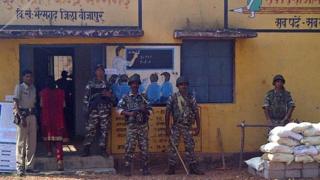 Media in India see a high turnout of voters in Chhattisgarh state elections as a win against Maoist rebels.
At least 67% of voters turned out to cast their ballots in the first phase of state assembly polls on Monday, the Election Commission reported.
Many see the turnout as impressive because Maoists had issued threats of violence against the election process.
The rebels often target government and police officials in what they describe as their fight for the rights of "neglected" indigenous tribes and the rural poor.
The Maoists killed 27 people, including top state politicians, in one of their most violent attacks in May this year.
Police say the vote, barring a few isolated incidents of violence, can be described as "historic" and "successful".
The Times of India says "voters across Maoist-infested parts of Chhattisgarh defied the poll boycott called by Communist Party on India (Maoist) as well as a heightened threat of IED/armed attacks to record a 67% turnout".
The First Post website also praised voters' courage.
"More than two million voters defied Maoists to vote in the first phase of state elections that marked the start of the biggest popularity contest ahead of the 2014 general elections," it says.
Hindustan Times highlights the role played by security forces in ensuring smooth elections.
"With 100,000 security personnel deployed for 2.9 million voters, the turnout was highest in the last decade," it says.
The second and final phase of voting for the 90-member state assembly is due to be held on 19 November.
Meanwhile, India, perhaps for the first time, has articulated its support for Iran's right to enrich uranium for peaceful purpose, reports say.
Delhi made its stance clear on Iran's nuclear issue in a joint statement released after a meeting of Indian, Russian and Chinese foreign ministers on Monday, The Indian Express reports.
The joint statement calls for "an early resolution of Iranian nuclear issue through political and diplomatic means on the basis of a step-by-step approach and reciprocity to restore international confidence in the peaceful nature of Iran's nuclear programme".
Elephant ride
In national news, the Supreme Court is set to hear a petition that seeks a ban on addressing judges as 'my lord', 'your lordship' and 'your honour'.
The plea calls for ending the "colonial system of addressing judges on the ground that it amounted to slavery and treating the judges on a par with God", The Telegraph reports.
In sports, fans of legendary cricketer Sachin Tendulkar are angry after a website tasked to sell tickets of his last Test match reportedly crashed on Monday.
The batsman is set to play his final and 200th Test in his home city of Mumbai from 14 November.
"This is Sachin's last match. He is from Mumbai and we may not get to see it. What kind of justice is this?" The Hindu quotes a fan as saying.
Kyazoonga.com, however, denied the crash, saying transactions had "slowed down because of an unprecedented surge in traffic, with 19.7 million hits received in the first hour alone".
And finally, a candidate for state elections in Delhi may face legal action after using an elephant as his ride to reach the Election Commission (EC) office to file his nomination.
The EC says riding an elephant may not violate election rules, but it may amount to cruelty against animals, the Hindustan Times reports.
"I had checked with the nodal officer if riding an elephant was against the model code of conduct. Only after I was told it was not, I went ahead… I treated the animal with care and it had to face no act of cruelty," the paper quoted candidate Shiv Kumar Tiwari as saying.
BBC Monitoring reports and analyses news from TV, radio, web and print media around the world. For more reports from BBC Monitoring, click here. You can follow BBC Monitoring on Twitter and Facebook.