India capital Delhi shaken by four small earthquakes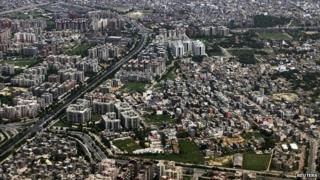 Four earthquakes have shaken homes in the Indian capital, Delhi, sending people running into the streets.
India's meteorological department said the first tremor measured magnitude 3.1 and was centred near a neighbourhood in south Delhi.
This was followed by three more tremors measuring 3.3, 2.5 and 2.8 magnitude over an hour in the capital and its suburbs of Noida and Ghaziabad.
No damage or casualties have been reported in Delhi or the suburbs.
The first quake hit at 12:41 (18:30 GMT), India's meteorological department said.
Reports say several people ran out of their homes after the tremors.
"This must be the strongest earthquake tremor I have ever felt. It was like earth shivering," a Delhi resident with the Twitter handle @DilliDurAst tweeted.
Others like S Irfan Habib tweeted that "despite being awake till 0100 never felt the earthquake shocks in Delhi. May be low intensity and central Delhi was away from its centre."
Delhi is close to several fault lines and held a major earthquake drill last year.