Chhattisgarh: Voting ends in first phase of India state polls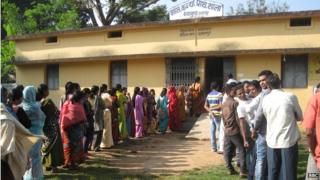 Polling has ended in the first phase of key elections in the central Indian state of Chhattisgarh with officials saying 67% of voters turned out.
Isolated incidents of violence marked polling in 18 constituencies, the majority of them located in Maoist rebel strongholds in the Bastar region.
Thousands of paramilitary troops were deployed to ensure security.
The second and final phase of voting for the 90-member state assembly is due to be held on 19 November.
Maoists, who have been operating in central and eastern India for four decades, called for a boycott of the elections.
They demand land and jobs for the poor, and ultimately want to establish a "communist society" by overthrowing India's "semi-colonial, semi-feudal" form of rule.
The rebels ambushed a team of election personnel when they were returning polling had closed in the Katekalyan area of Dantewada district in south Chhattisgarh, killing a paramilitary soldier, Press Trust of India reported.
At least 10 bombs were recovered and a policeman was injured in a bomb attack by the Maoists, the agency added.
The BBC Hindi's Salman Ravi in Chhattisgarh says more than 4,000 polling stations were set up for Monday's elections.
More than 150 polling stations from remote areas of Bastar region were moved to more accessible locations for security of the voters, our correspondent says.
The principal contenders in Chhattisgarh are the ruling BJP and their main rival Congress party. The Communist party is a formidable force in the Maoist-affected areas.
More than 140 candidates, including Chief Minister Raman Singh of the ruling Hindu nationalist Bharatiya Janata Party (BJP), are in the fray.
Key assembly elections are being held in five Indian states - Madhya Pradesh, Delhi, Rajasthan, Chhattisgarh and Mizoram - from 11 November to 4 December. Votes will be counted on 8 December.
A total of 110 million voters will be eligible to cast their votes in the five states.
Correspondents say the polls will give a sense of how the electorate may vote in the general elections due in 2014.