Carlsen challenges India's Anand for world chess title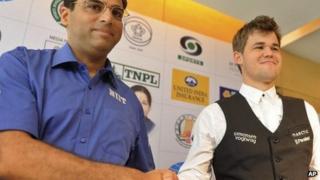 The Indian city of Chennai (Madras) is hosting the world chess championships, which could end the six-year reign of local man Vishwanathan Anand.
Many experts are expecting Anand's young Norwegian challenger Magnus Carlsen to take the title.
The 12-game match will be held over three weeks at a local hotel, watched by a select audience of 350 inside the main hall and by thousands on live TV.
Anand, 43, has been undisputed champion since 2007.
However, Carlsen, 22, is now the highest rated player in history, with Anand currently ranked only number eight in the world.
Correspondents say the excitement around the tournament is reminiscent of the 1972 clash in Rejkjavik, Iceland, in which US challenger Bobby Fischer ended 24 years of Soviet dominance, beating defending champion Boris Spassky.
"We will see how it goes but I think I am ready to play. I am really excited to play in my home city. I am looking forward to the match starting," Anand told the Times of India newspaper.
Carlsen appeared to downplay his advantage.
"I don't know who the favourite is. In general I expect to do well in tournaments I play in," he told journalists.
Russian former grandmaster Garry Kasparov has described Carlsen as the Harry Potter of chess.
Another Russian champion, Vladimir Kramnik, told the Times of India that Carlsen had more energy and motivation than Anand.
"Anand is somewhat intimidated by Carlsen. He has not been confident playing against him - he's scared of him," he said.
However, Anand has won more of their head-to-head matches.
In the 12-game format, one point is awarded for a win and half for a draw. The first man to 6.5 points will be declared the winner and if the points are equal after the 12th game there will be a sudden death decider.