The battle over the legacy of India's 'Iron Man'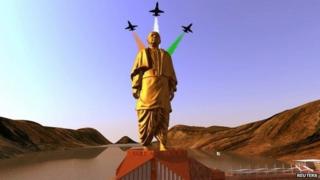 Is a scramble to appropriate the legacy of one of India's greatest icons a clever political gambit or a sorry commentary on its lack of great leaders?
For the past fortnight, Indians have been treated to what many say is an unseemly tussle between the two main political parties - the ruling Congress and the main opposition Hindu nationalist Bharatiya Janata Party (BJP) under the energetic leadership of prime ministerial candidate Narendra Modi - to seize the legacy of Sardar Vallabhbhai Patel, one of the republic's greatest leaders.
Mr Modi, who is also the chief minister of Gujarat, recently caused a stir when he said Mr Patel would have been a much better choice than Jawaharlal Nehru as India's first prime minister.
Mr Modi also ordered work to begin on a massive statue - and billed to be the 'world's tallest' - of Patel in Gujarat which, at 182m (597ft), would be twice as high as New York's Statue of Liberty and cost tax payers 20.63bn rupees ($336m; £210m). A statue which, in the words of journalist Tunku Varadarajan, is vast, tall and giant, in a land of political pygmies".
Most Indians know of Patel as a staunch nationalist, who also came to be known as the Iron Man. The son of a farmer, Patel was a prominent independence hero, a tough-talking administrator and a canny strategist who coaxed and arm-twisted the rulers of more than 550 princely states to merge with India after independence.
He went on to become India's interior minister and deputy prime minister under Jawaharlal Nehru.
'Fierce patriots'
But his very own Congress party, critics say, has not exactly covered itself with glory while trying to "reclaim" Patel's legacy.
Senior minister Jairam Ramesh said Mr Modi's moves were an "insult" to Patel, as the BJP's controversial prime ministerial nominee had been "brought up in ideologies that inspired the assassination of Gandhi". (Gandhi was assassinated by a fellow Hindu, Nathuram Godse, who felt that he had betrayed the Hindu cause)
Taking a dig at Mr Modi, PM Manmohan Singh said at a function - sharing the dais with Mr Modi - that Patel was a secular leader and that there was a "severe dearth of the values he stood for".
Mr Modi is a divisive politician, credited with bringing development to Gujarat state, but also accused of complicity in some of the worst religious riots in recent Indian history.
He had his differences with Nehru - Patel was perceived to be more pro-West and pro-capitalist and the two differed on the candidates for the first president of India and the Congress party, and the treatment of minorities.
But, as historian Ramachandra Guha says, both were politicians of "conspicuous integrity and were fierce patriots". And despite their differences, he adds, "to Nehru, Patel was more comrade than rival".
What prevented a potential fallout between the two, in the words of Nehru's biographer S Gopal, was their "mutual regard and Patel's stoic decency".
The partisan bickering over Patel's legacy is felt by many to be a disingenuous attempt by India's main parties to prove that they are the true inheritors of a glorious political legacy.
Critics like historian DN Jha blame Mr Modi for trying to hijack a legacy to burnish his own credentials as a muscular nationalist, who has still not apologised for the riots in Gujarat under his watch. Dr Jha told me that it "suits Mr Modi to appropriate Patel as both are from the state of Gujarat and Mr Modi wants to be projected as strong, nationalistic leader like Patel".
'Disuse'
Many also blame Congress for trying to lean on Patel after relegating him - and other Congress leaders like independence war hero Subhas Chandra Bose - to the footnotes of history while propping up the Nehru-Gandhi dynasty as its raison d'etre.
"The misuse of Patel is the result of the disuse of Patel, the counterfeiting of Patel is the result of the forfeiting of Patel, writes former diplomat Gopalkrishna Gandhi. "The BJP would never have thought of gilding the Sardar's legacy if it had not got dust-laden and cob-webbed in its own home."
In this season of "competitive absurdity", one wonders whether all this impress the voters at all - "Both have locked horns on the legacies of the past instead of a promise of the future, even as the 2014 campaign is just beginning," writes commentator Shekhar Gupta.
It is not clear whether harking back to the past will endear any party to the millions of India's young and restless voters with rising aspirations. "Not a single vote will be cast in 2014 about who would have been a better prime minister in 1947," writes journalist and writer MJ Akbar. There should be little doubt about that.
And what would have Patel thought about this kerfuffle if he was alive?
Ramachandra Guha has the last word. "He might have been first amused, then dismayed, by the Congress's and the BJP's pathetic fight for a legacy neither understand," he says.