Sanjay Dutt: India Bollywood actor returns to jail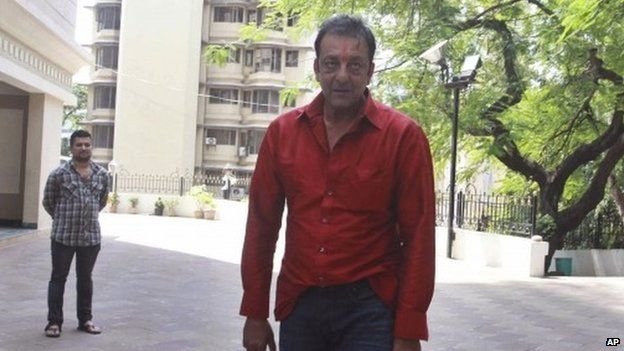 Bollywood star Sanjay Dutt has returned to prison a month after he was released for medical reasons.
The actor was granted a 14-day parole on 1 October by Pune's Yerwada prison to seek treatment for a leg ailment. It was extended by two more weeks later.
He was sentenced for firearms offences linked to 1993 Mumbai blasts which killed 257 people and injured 713.
The actor was convicted for illegally possessing a rifle and a pistol which he bought from the bombers.
Dutt left his house in Bandra in Mumbai suburb on Wednesday morning for Pune, reports said.
He said he still had pain in his legs and appealed to fans to wish for his early release.
"I still have a problem in my legs but it is a bit better than before. Pray for me so that I can come out soon," Press Trust of India quoted him as saying.
The actor has already served 22 months of his five-year term.
One of Bollywood's most bankable stars, he is hugely popular for his role as a lovable gangster in the Munnabhai movies. He has also dabbled in politics.