Indian media: War of words over Sardar Patel's legacy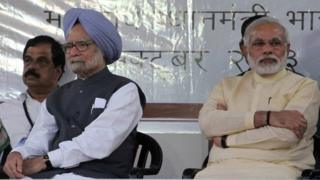 Media highlight a war of words between India's governing and main opposition party over independence hero Sardar Vallabhbhai Patel's legacy.
Sardar Patel, generally called the "Iron Man of India", played a major role in the country's fight for independence from British rule.
A close friend and ally of Mahatma Gandhi, he is credited with uniting India's several princely states as the country's first home minister.
The main opposition Bharatiya Janata Party (BJP) says the freedom fighter's legacy belongs to everybody and he cannot be confined into the history books of one particular party.
Congress party politicians, however, says Patel was a member of their party.
The war of words intensified on Tuesday when the BJP's prime ministerial candidate, Narendra Modi, said Patel was a much better choice than Jawaharlal Nehru as India's first prime minister.
But Prime Minister Manmohan Singh, who was sharing the stage with Mr Modi at a government function, responded by saying that "Patel was a secular leader and I am proud to be a member of a political party with which he was associated".
"Nehru, Patel and Maulana Azad (another stalwart of India's freedom struggle) were secular and all of them respected thoughts and ideas that were different from theirs," The Hindu quoted Mr Singh as adding.
The Hindustan Times says Mr Singh and Mr Modi "took pot-shots at each other's parties during the inauguration of the Sardar Patel Museum in Ahmedabad on Tuesday".
"Curiously, although Patel was a member of the Congress Party, Mr Modi and the BJP have often taken refuge in his colossal shade, invoking the man's efforts and the little that Congress paid back to honour him," says The Indian Express.
The Times of India says "the battle for Sardar Patel's legacy is likely to continue this week with Mr Modi scheduled to announce building of the world's tallest statue - that of Patel - on 31 October, Patel's birth anniversary".
Tributes for Yadav
Meanwhile, India has fallen by three positions to 134th place in the "ease of doing business" list released by the World Bank, the Hindustan Times reports.
The report, which compiles the average time taken to start a business in a country along with costs, puts India behind its neighbours China, Nepal, Pakistan and Bangladesh.
The paper says the ranking will bring India "more grief" as it has struggled to attract foreign investment in recent years because of "stalled reforms, complex tax regimes and local rules".
Elsewhere, police in Delhi have rescued a teenaged domestic worker who was locked in a house by her employer, reports The Times of India.
She was repeatedly beaten by her employer and suffered mental trauma, reports say.
Police say the employer, who is away in Australia, will be arrested upon her return.
The report comes less than a month after the rescue of a 15-year-old domestic help who was physically abused by her employer.
Moving on to some literary news, tributes are pouring in for noted Hindi writer Rajendra Yadav who died in Delhi on Tuesday.
The Times of India says the writer was "one of the pillars of nai kahani (new story) movement in Hindi literature" and will be remembered as a supporter of the underprivileged and marginalised people.
"Yadav was an intellectual activist who was vocal and assertive in highlighting Dalit (low Hindu caste) and gender issues that have now become central in Hindi literature," the paper quotes writer Uday Prakash as saying.
And finally, the Guimet Museum in Paris on Tuesday screened Hindi film Bhumika to mark the end of a two-month-long festival celebrating Indian cinema, reports The Hindu.
Martine Armand, in charge of the event, said the festival was held to mark the 100th anniversary of Indian cinema and the film provided a "fitting" end to it, the paper adds.
BBC Monitoring reports and analyses news from TV, radio, web and print media around the world. For more reports from BBC Monitoring, click here. You can follow BBC Monitoring on Twitter and Facebook.