Indian media praise Vettel's triumph in Formula 1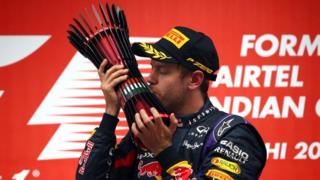 Media feel India has become "special" for Sebastian Vettel who clinched his fourth consecutive world title with a win at the Indian Grand Prix on Sunday.
The German, 26, drove a perfect race at the Buddh International Circuit to secure his sixth consecutive victory this season and become only the fourth man in history to win four titles.
The Times of India says the Indian GP has secured a place in history after Vettel's win.
"For India, Sebastian Vettel was always special. On Sunday, India became really special for Sebastian Vettel. After Brazil (2010 and 2012) and Japan (2011), India became the third country to witness his coronation as the World Driver's Champion," the paper adds.
The Zee News website says "the German has joined the elite club of Michael Schumacher and Juan Manuel Fangio as only the third driver to become the world champion for the fourth time".
"Vettel completed a hat-trick of wins in India where no other driver has ever won since the race made its debut in 2011," says The Economic Times.
Papers are also full of praise for the driver's special gift to his fans, saying what Vettel did was special and rarely witnessed in a "highly-sanitised sport".
"At the end of his celebratory lap instead of coming into the Parc Ferme (secure area), Vettel regaled a packed Grandstand when he made perfect 'donuts' with his beloved 'Hungry Heidi' (his car) - burning the tarmac with tyre tracks and raising a happy cloud of smoke," The Times of India says.
Papers are also celebrating home team Sahara Force India's crucial eighth and ninth spot finish to earn some much-needed points.
But a tinge of sadness is also evident in Monday's newspaper reports because the F1 will not return to India in 2014.
"Force India returned with some success too in what could well be the last Formula One race in the country for some time, seeing Paul di Resta and Adrian Sutil finish eighth and ninth with the latter in particular running a strong first stint," the Deccan Chronicle says.
In domestic news, newspapers are highlighting security challenges in the run-up to the 2014 general elections after multiple blasts in the northern city of Patna before Narendra Modi, the main opposition Bharatiya Janata Party's candidate for PM, addressed a massive rally on Sunday.
The Times of India says the poll campaign "took a frightening turn" after seven blasts left six people dead and 100 injured in Patna.
Hindi paper Dainik Jagran says "political parties have to come together to eradicate terrorism from the country".
Defying tradition
In an inspiring breakthrough, scientists in the southern city of Bangalore have found a drug that could potentially cure autism, the Deccan Herald reports.
The drug targets Fragile X Syndrome, the commonest form of autism, and paves the way for a "paradigm shift" in treatment, Sumantra Chattarji, a scientist at the National Centre for Biological Sciences, told the paper.
Meanwhile, at least 1,000 Hindu widows will defy tradition this year and celebrate the festival of Diwali in Mathura town, a report on the Zee News website says.
The celebration has been organised by social activist Bindeshwar Pathak "to kindle happiness in their twilight years", and goes against tradition, which requires widows to lead a simple life and shun all celebration.
In other news, the family of legendary playback singer Manna Dey, who died last Thursday, is flooded with requests from fans across India who want some of his belongings as memorabilia, The Hindu reports.
And finally, much to the disappointment of his fans, legendary batsman Sachin Tendulkar could score only five runs in his last domestic cricket match on Sunday, The Times of India reports.
He is due to play his final and 200th international Test against the West Indies in November.
BBC Monitoring reports and analyses news from TV, radio, web and print media around the world. For more reports from BBC Monitoring, click here. You can follow BBC Monitoring on Twitter and Facebook.