India election: BJP's Modi rally hit by deadly blasts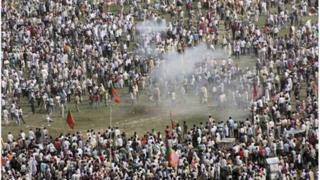 A bomb attack on crowds gathered for an opposition rally in India has killed five people and wounded dozens more.
Several explosions detonated near a park in Bihar's state capital, Patna, where prime ministerial hopeful Narendra Modi was due to speak.
Tens of thousands had gathered in the city centre to hear the speech by Mr Modi, who later offered condolences to the families of the victims.
No group has said it carried out the attack.
Mr Modi's Hindu nationalist Bharatiya Janata Party (BJP) is trying to unseat Congress in a general election due in mid-2014.
The BBC's Sanjoy Majumder in Delhi says serial blasts have taken place in other parts of India before, but not in Patna.
It is still very early in the campaign, our correspondent says, but there is little doubt that the already tight security around Mr Modi will be strengthened.
Mr Modi is one of the most polarising figures in Indian politics.
He was criticised in 2002 for doing little to prevent religious riots in his home state, Gujarat, in which more than 1,000 people died.
But he is also widely admired for making Gujarat one of India's most developed states.
'Many lying injured'
On Sunday, the first bomb detonated at Patna railway station.
Six others followed, all of them close to a public park where tens of thousands of BJP supporters had gathered.
"There was a blast right behind me. I heard people saying that one of the tyres of a vehicle has burst," said one witness.
"When I went to the spot, I saw many people lying injured on the ground."
The police said several of the injured were in critical conditions.
Officers described the bombs as crude devices that produced "low-intensity" explosions.
Federal investigators have launched an inquiry into the attack.
Prime Minister Manmohan Singh condemned the incident and called for urgent steps to identify those responsible.