Indian media pay tributes to legendary singer Manna Dey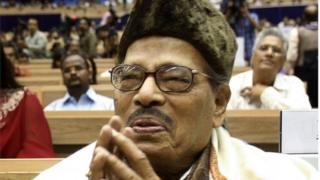 Media in India are paying rich tributes to legendary Bollywood singer Manna Dey, who died on Thursday.
Dey, 94, had been ill for the past few months and was in a Bangalore hospital for a respiratory infection.
He has left behind a legacy of almost 70 years, having sung more than 3,500 songs in 16 languages.
"A melancholic vacuum has been created" by Dey's death, says the DNA website.
"His death doesn't mean the passing away of just a singer. For Indian music he was an era unto himself. His voice touched the soul directly," it adds.
"Manna from heaven" is how The Times of India describes the revered singer.
The Hindustan Times says "Dey epitomised the golden period of Hindi cinema with his inimitable style and memorable songs".
"Along with [Mohammad] Rafi, Mukesh, and Kishore Kumar, Dey was the last member of the famous quartet of singers who dominated the Hindi music industry from 1950s to 1970s," it adds.
The Zee News website remembers the singer for his soulful voice.
"He had such a versatile voice that rock and roll came to him with equal ease as a heavy raga-based song," it adds.
Meanwhile, the Zee website also reports that the Delhi High Court has decided to go "paperless" and allow petitioners to file their cases digitally.
"The system is the first of its kind in the country for the advocates and litigants-in-person. This is a good cause which will also help the general public," the report quotes High Court Chief Justice NV Ramana as saying.
The move is also likely to make the country's judicial system faster as more than 30 million cases are pending in high courts and lower courts in India.
Moving on to healthcare, some papers feel the Supreme Court's order to a Calcutta hospital to pay nearly $1m to a US-based Indian doctor in a case of medical negligence will act as a deterrence.
Dr Kunal Saha's 36-year-old wife, Anuradha, died of kidney failure in the Advanced Medical Research Institute in 1998.
He fought a long legal battle to get this verdict, but feels justice has been done.
"This will send a strong message to all negligent doctors and unscrupulous hospitals reaping innocent patients everyday across India", The Business Standard quoted him as saying.
The Indian Express says "this is a precedent-setting case, and recognition of the way life can often be devalued in an unaccountable healthcare system".
India's polio fight
Newspapers and websites are praising India's efforts in getting the "polio-free" status - a day after the world celebrated the World Polio Day.
In 2009, India topped the world's polio charts with 741 cases, but an intensive vaccination drive has brought the disease under control, says the Hindustan Times reports.
"Not a single new case of polio in India is indeed a message of great hope. It has also silenced the critics who felt that polio in India could never be eradicated, given its dismal standards of sanitation and hygiene," says The Times of India.
And finally, moving on to some business news, India's main stock index, the Sensex, surged past the level of 21,000 for the first time since November 2010 on Thursday.
Some newspapers and websites see the rally on the market as a temporary relief and attribute the surge to a mild upward swing in foreign investments.
"The market participants were euphoric in January 2008, circumspect in November 2010 and are downright frightened in October 2013. The reason for fear at the 21,000 mark is that there is nothing positive on the horizon. The rupee is down 13% since April and the economy is growing at decade low growth rates," says the First Post website.
The concerns seem valid as the Sensex fell by 65 points in Friday's opening trade, reports say.
BBC Monitoring reports and analyses news from TV, radio, web and print media around the world. For more reports from BBC Monitoring, click here. You can follow BBC Monitoring on Twitter and Facebook.