Kashmir: India accuses Pakistan of fresh border firing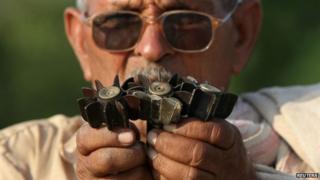 India has accused Pakistani troops of firing at more than 50 locations along the disputed border in Kashmir.
A paramilitary soldier was killed and three others were injured in firing on Tuesday night, officials said.
Firing continued on Wednesday morning, they said. There has been no comment on the latest fighting from Pakistan.
Earlier this month, the Indian army said it had fought gun battles with "30 to 40 Pakistan-backed militants" who had tried to infiltrate into India.
Officials said the militants made several attempts to enter the Keran area and that at least eight of them died in clashes over the last two weeks.
Pakistan dismissed as "baseless" reports of infiltration from its soil.
On Wednesday, India once again accused Pakistan of raising military tension along the border in Kashmir, a territory both claim in full but only partly control, the BBC's Riyaz Masroor reports from Srinagar.
Authorities said there had been nearly 50 incidents of firing in the RS Pura and Pargawal sectors in the Jammu region.
The firing came hours after Indian Home Minister Sushil Kumar Shinde concluded a day-long visit to some Kashmir villages bordering Pakistan.
During his visit, Mr Shinde said that villagers were fleeing their homes because of repeated firing from Pakistan.
The increased volatility along the border comes 10 years after the two countries agreed a ceasefire along the Line of Control (LoC), the de facto border that divides Kashmir between them.
Delhi and Islamabad have since the beginning of the year regularly accused each other of violating the ceasefire, with India reporting nearly 200 violations by Pakistan. On several occasions, Pakistan has accused India of unprovoked firing.
In September, the prime ministers of the two countries met in New York and agreed to maintain peace on the border, but correspondents say their pledge seems to have made little difference on the ground.
Pakistani Prime Minister Nawaz Sharif on Tuesday vowed to go the "extra mile" to make peace with India, saying while on a trip to the US that the two countries can resolve all issues including Kashmir through dialogue.