India police probe toxic alcohol deaths in Azamgarh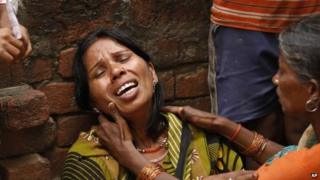 Officials in India have begun an inquiry after at least 42 people died from drinking toxic alcohol in the northern state of Uttar Pradesh.
Dozens of people are recovering in hospitals and officials say they expect the number of dead to rise further.
Police say they have raided several places and arrested 12 people. They say the liquor was spiked with excessive chemicals which made it poisonous.
Deaths from contaminated alcohol are a regular occurrence in India.
The homemade alcohol - commonly called desi daroo in India - usually costs as little as 10 rupees (20 US cents) and the majority of the consumers are poor people.
Chemicals and pesticides are often added to the alcohol to increase the strength or improve the flavour and the tainted liquor can lead to fits, vomiting and death.
People in eight villages of Mubarakpur area in Azamgarh district consumed illegal alcohol on Friday after which they fell ill, police said.
"At least 42 people have died in hospitals but we expect the toll to be higher since many bodies have been cremated by families without informing the police or the medical authorities," the chief medical officer in Azamgarh, BB Singh, told the BBC.
Some of the victims have gone blind after drinking the toxic brew, officials said.
Half a dozen policemen and five officials from the state's excise department have been suspended by the state government.
India has witnessed many toxic alcohol deaths over recent years.
Some 169 people were killed in West Bengal in December 2011, while 107 people died in Gujarat in July 2009.
Nearly 200 people died in Orissa in 1992 after consuming a deadly combination of methyl and ethyl alcohol.
Gujarat has taken the strongest action on toxic liquor with a law that makes the illegal manufacture and sale of toxic alcohol there punishable by death. It says the law was intended to deter those involved in the illegal trade.
Gujarat, Mizoram and Nagaland are the only states in India where alcohol is totally prohibited by law.