Tight security at India 'treasure hunt' site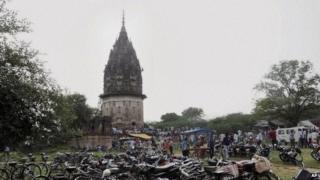 Police in northern India have secured the site of an archaeological dig after hundreds of people gathered there amid reports it held buried treasure.
The crowds gathered as media reports say that a Hindu seer dreamt 1,000 tonnes of gold was buried under the ruins of a 19th Century fort.
Shobhan Sarkar said the gold belonged to King Rao Ram Baksh Singh.
Archaeology officials say the dig is not linked to the dream, but a routine attempt to look for cultural artefacts.
Government archaeologists began excavating the remains of an old fort in Daundia Khera village in Uttar Pradesh state on Friday morning.
The police have been deployed in strength to keep away curious villagers and barricades have been set up to prevent onlookers from entering the excavation site.
Geologists who have surveyed the site say there is a possibility that the site contains some metal.
Mr Sarkar said the king appeared in his dream and told him to take care of the gold found under the ruins of his fort.
Reports say the sage was not taken seriously at first, but this changed after the seer relayed his dream to an Indian government minister who visited him last month.
Even before any excavations began, there were several claimants to any treasure found at that location.
"If gold is really found there, we should get our share," Associated Press quoted one of the king's descendants, Navchandi Veer Pratap Singh, as saying.
Uttar Pradesh state authorities, as well as local officials, also said they had a right to the wealth and that the "treasure trove should be used for the development of the state", AP reported.