Mumbai gang-rape victim collapses while giving evidence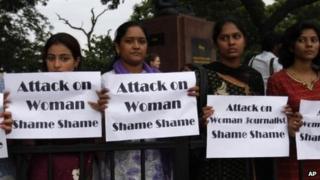 A woman who was gang-raped in the Indian city of Mumbai in August has fainted in court while giving evidence.
The photojournalist, who was attacked while on assignment in a deserted mill, was taken to a local hospital.
Earlier the victim, aged 22, identified four of the men accused of raping her.
Women's safety has been the focus of attention in India since a brutal gang rape and murder in Delhi last year, after which the Indian government strengthened its sexual violence laws.
The photojournalist, who cannot be identified, had been giving evidence for more than four hours when she collapsed, said public prosecutor Ujjwal Nikam.
The victim was very composed, but was "under mental pressure", Mr Nikam told the BBC.
Tougher laws
He said she had identified all four men who stood trial in court on Thursday. A fifth suspect is being tried separately by a juvenile court.
The photographer also identified pornographic video clips that she said she was shown while she was raped, said the special public prosecutor.
Proceedings were stopped when the rape survivor collapsed, Mr Nikam said.
Last month, four men were convicted and sentenced to death over the gang-rape and murder of a young woman in Delhi in December.
The case led to widespread protests across India and highlighted the extent of attacks on women in the country.
A bill containing harsher punishments for rapists, including the death penalty, was approved by India's parliament earlier this year.
But many working in the legal system say not enough is done to protect those who bring rape cases to court.