India 'Maoist' attack kills three policemen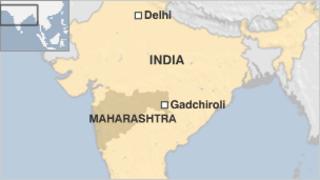 Three policemen have been killed in an attack by suspected Maoist rebels in India's western state of Maharashtra, police have said.
They said that the rebels ambushed a patrol in the Gadchiroli district, a relatively undeveloped region.
The district is on Maharashtra's border with the central state of Chhattisgarh and is a stronghold of the rebels.
They control large areas of several states in a "red corridor" stretching from north-east to central India.
The Maoists say they are fighting for communist rule and greater rights for tribal people and the rural poor.
Thursday's incident took place near the Gyarabatti area of Gadchiroli when Maoist rebels "attacked a police patrolling party", a police official quoted by the Press Trust of India news agency said.
The official said there were no "immediate reports" of any injuries to other policemen.
In March last year, a landmine explosion blamed on the Maoist rebels killed at least 15 policemen in Gadchiroli.
India's Maoist insurgency began in West Bengal state in the late 1960s and has become, according to Prime Minister Manmohan Singh, the country's "greatest internal security challenge".
Big military and police offensives in recent years have pushed the rebels back to their forest strongholds and levels of violence have fallen.
But hit-and-run attacks are still common, killing hundreds of people every year.