Indian media praise record-breaking youngsters after win over Australia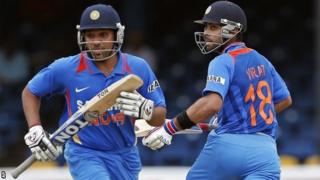 Media feel India's record-breaking nine-wicket win over Australia shows the youngsters are ready to fill the gap left by the retirement of stalwarts like Sachin Tendulkar.
India pulled off the second-highest run chase in one-day internationals to thrash Australia and level their series at 1-1 in a pulsating match on Wednesday in Jaipur.
Mahendra Singh Dhoni's men surged to their target of 360 with 39 balls to spare as Virat Kohli smashed the fastest ODI century by an Indian from just 52 deliveries.
Rohit Sharma struck the winning runs to finish on 141 not out after Shikhar Dhawan blasted a quick-fire 95.
Pundits say India seems to have found suitable inheritors of the "fantastic four" batting line-up that included three former captains in Sachin Tendulkar, Sourav Ganguly and Rahul Dravid, as well as VVS Laxman.
"Just this morning, we were sitting and talking about India cricket. Tendulkar - on his way out. Rahul Dravid -gone. VVS Laxman - gone. Virender Sehwag - in the wilderness. Gautam Gambhir - trying to fight his way back... So who would we watch Indian cricket for? And then the young Indian brigade provided the perfect riposte," says the First Post website.
The Times of India says "the capabilities of a confident India was on a majestic display at Sawai Mansingh Stadium" on Wednesday.
"Indian batting's 'Gen-Next' troika showed why they are not afraid of any target and reasserted India's supremacy in the 50-over format," says the NDTV website.
Moving on to foreign affairs, India has urged Iran to accept payments for crude oil imports entirely in rupees, The Business Standard reports.
"We have told them (Iran) that either they go for the option or we might have to look for other options," a Department of Commerce official told the paper.
India currently pays for 55% of its oil purchases from Iran in rupees and for the rest in euros, a way to bypass sanctions that prevent payments to Tehran in dollars.
Staying with foreign affairs, India has rushed its top diplomat, Foreign Secretary Sujatha Singh, to the Maldives to persuade all parties to ensure the smooth conduct of repeat presidential elections on Saturday, The Indian Express reports.
Polls in the island nation last month led to a dispute over which candidates were eligible for a final run-off, leading the country's Supreme Court to annul the election entirely and order a fresh vote.
Suspension over billboards
In domestic news, the ruling Congress Party has suspended two members in the northern state of Uttar Pradesh for putting up billboards which the party described as unflattering, the NDTV website reports.
The billboards, which came up in the city of Allahabad and have now been pulled down, referred to Congress chief Sonia Gandhi, who travels occasionally to the US for medical check-ups, as "ill" and urged her daughter Priyanka to join politics.
"The mother is often ill nowadays, and the brother (Rahul Gandhi) is overburdened. Priyanka, become the candidate from Phoolpur (constituency) and campaign for the party. Help the Congress get elected for a third time," said one of the billboards.
And finally, policymakers are worried that the use of contraceptives, mostly condoms, across the country has dropped by 40% in the last five years, The Times of India reports.
"With India's population tipped to overtake China's by 2025, this sharp drop is a cause for concern," the paper quotes a health expert as saying.
BBC Monitoring reports and analyses news from TV, radio, web and print media around the world. For more reports from BBC Monitoring, click here. You can follow BBC Monitoring on Twitter and Facebook.