Indian media: Tendulkar's 'last hurrah' at home ground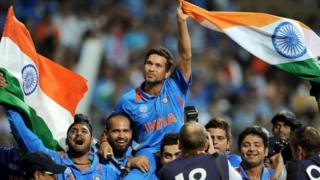 Media are praising the Indian cricket board's decision to host legendary cricketer Sachin Tendulkar's final Test match in his home city of Mumbai.
The 40-year-old former captain announced his decision to retire from all forms of cricket last week.
The Wankhede Stadium, where he made his first class debut in 1988, will host the second match of the two-Test series against West Indies from 14 November.
The Times of India applauded the The Board of Control for Cricket in India (BCCI) for accepting the maestro's wish to play his final and 200th Test match at the "historic venue".
"Once Sachin Tendulkar had expressed his desire to play his 200th and final Test at home, only a formal announcement from the BCCI was awaited, which came on Tuesday," said the CNN-IBN website.
Former captain Sunil Gavaskar said he hoped Tendulkar would bid adieu to the game on a high from a ground where he started his journey as a schoolboy.
"Sachin made his first class debut at the Wankhede Stadium and since he is playing his last Test there, his cricketing career will come a complete circle. He scored a hundred on debut in the Ranji Trophy and everybody is hoping he'll score a hundred in his final Test," Gavaskar told a TV channel.
But Mumbai is not alone in preparing for the celebration of the master's illustrious career.
Calcutta, which will host his 199th Test match, is also gearing up to pay a grand farewell.
And Tendulkar's former captain Saurav Ganguly is leading calls to prepare the city for a fitting tribute to the "god of cricket".
"I appeal to the cricket aficionados of Calcutta to fill up the Eden Garden. Not a single seat should be empty. We must give Sachin a grand felicitation," the DNA quotes Ganguly as saying.
Meanwhile, papers are calling wonobo.com, a new website which offers 360-degree panoramic views of streets in 12 different cities, India's answer to Google Street View.
"Genesys International, founded in 1995 by brothers Sol and Sajid Malik, have captured numerous images of almost every street in these cities, and stitched the images together to create 360-degree panoramic views of the streets, almost exactly the way Google has done in many other parts of the world," The Times of India says.
Sombre Eid
Even as most parts of India celebrates Eid al-Adha on Wednesday, the mood is sombre in the riots-hit town of Muzzafarnagar in the northern Indian state of Uttar Pradesh.
The Times of India says "there's very little to cheer a day before Eid-al-Adha Eid in this western UP town that's still restive from the riots that convulsed the district a month and a half back".
There is still heavy police presence in the region following the Hindu-Muslim riots that left 62 people dead, the paper adds.
Elsewhere, a court has remanded controversial Indian spiritual guru Asaram Bapu in custody until 19 October over an alleged rape of a 33-year-old woman, The Indian Express reports.
The court in the western state of Gujarat was hearing a complaint filed by the woman that the guru repeatedly raped her between 2001 and 2006, the paper says.
Asaram was first arrested in Rajasthan state last month over a separate case of sexual assault on a 16-year-old girl.
He denies the allegations.
Meanwhile, a woman and her daughter were killed after a 150-year old house, apparently belonging to late British military adventurer Colonel James Skinner, collapsed in north Delhi, The Hindu reports.
The woman and her daughter had been living the dilapidated one-storey building which still has a name plate proclaiming it as James Skinner's House, the paper says.
And finally, Chinese tourists are being lured to shop more at the Indira Gandhi International (IGI) Airport in Delhi, the Mail Today website reports.
Measures like appointing Chinese speaking staff at departure terminals and celebrating Chinese festivals have been taken to draw in tourists from the neighbouring country, the paper adds.
BBC Monitoring reports and analyses news from TV, radio, web and print media around the world. For more reports from BBC Monitoring, click here. You can follow BBC Monitoring on Twitter and Facebook.