India's Cyclone Phailin: Thousands marooned by floods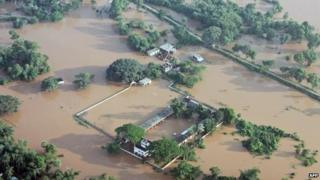 Workers are battling to rescue tens of thousands of people marooned by rising flood waters in Orissa, after the state was hit by the strongest cyclone in 14 years.
Flood waters have left nearly 100,000 people stranded in Mayurbhanj and Balasore districts, officials say.
Twenty-seven people were killed in the cyclone and floods - all but one of the deaths were in Orissa.
A flood alert has been also sounded in the neighbouring state of Bihar.
There are fears of heavy rainfall in at least two dozen districts after the weakened storm changed course and moved towards northern parts of Bihar bordering Nepal, officials say.
Cyclone Phailin crashed into eastern India over the weekend and flattened many coastal homes, uprooted trees and blocked roads in Orissa and Andhra Pradesh states.
But the evacuation effort - described by officials as "the biggest in India's history for such an event" - ensured the death toll remained low.
As the storm weakened a vast relief operation got under way to help up to one million displaced people.
'Cause of concern'
Now in Orissa, major rivers, including Budhabalanga and Subarnarekha, have swelled, leading to flooding in two districts, officials say.
Disaster management workers helped by the army and navy have been deployed to perform rescue operations.
"We are starting to air drop food packets in Balasore district. The flood situation there is a cause of concern," Orissa Revenue and Disaster Management Minister SN Patro told the Press Trust of India news agency.
Separately, hundreds of thousands of people who were evacuated before the cyclone have begun returning to their homes.
Many, however, remain in temporary shelters because their villages and homes have been destroyed or inundated.
The massive storm made landfall on Saturday evening, with winds of about 200 km per hour (125mph). It began weakening on Sunday as it made its way north-west.
But the intense storm has made more than half a million people homeless, state government officials said.
The storm tore down power and communication lines and knocked out road and rail links, making an assessment difficult.
An estimated 5,000 sq km of mostly paddy crops have been destroyed, causing a loss of some $320m (£220m).
Siberian birds killed
Meanwhile, the cyclone, which also hit the neighbouring state of Andhra Pradesh, has killed more than 1,000 Siberian migratory birds there, wildlife officials said.
The storm ripped up trees in the wetlands in Srikakulam district where the birds come every year for nesting.
Eggs were destroyed and chicks fell from the trees during the cyclone and some died from starvation.
Wildlife officials said they had rescued about 200 birds and kept them in a temporary shelter in a school building.
Conservationists say the bird sanctuary in Telineelapuram attracts thousands of pelicans and Asian Open-Billed Storks from Siberia and the birds embark on a journey of many thousands of kilometres every year.