India's Cyclone Phailin: Hundreds of thousands return home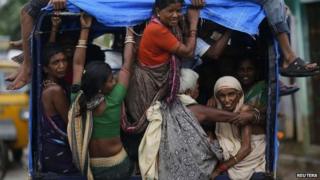 Hundreds of thousands of people who were evacuated before Cyclone Phailin crashed into eastern India have begun returning to their homes.
But many will remain in shelters as their homes and businesses were wrecked by the strongest cyclone in 14 years.
As the storm weakened a vast relief operation got under way in Orissa and Andhra Pradesh states, where officials say up to one million were displaced.
Mass evacuations managed to keep the death toll to a bare minimum.
Officials said 22 people were killed - all but one of the deaths were in Orissa.
The cyclone flattened many coastal homes, uprooted trees and blocked roads in the two states but the evacuation effort - described by officials as "the biggest in India's history for such an event" - ensured the death toll remained low.
Correspondents say before the cyclone hit, the authorities moved - sometimes forcibly - nearly one million people into temporary shelters set up in schools and government buildings.
The move has earned the Indian authorities rare praise for their preparedness.
In 1999 a cyclone killed more than 10,000 people in Orissa.
Thousands of families have started going back to their homes on Monday morning, the BBC's Sanjoy Majumder reports from Berhampur in Orissa.
Many, however, remain in temporary shelters since their villages and homes have been destroyed or inundated, our correspondent adds.
The authorities have promised that power and road access would be restored in the state by Monday evening, except in the worst-hit Ganjam district.
The massive storm made landfall on Saturday evening, with winds of about 200 km per hour (125mph).
It began weakening on Sunday as it made its way north-west.
But the intense storm has made more than half-a-million people homeless, state government officials said.
The storm tore down power and communication lines and knocked out road and rail links, making an assessment difficult.
An estimated 5,000 sq km of mostly paddy crops have been destroyed, causing a loss of some $320m (£220m).
Meanwhile, 28 sailors, who went missing after their ship sank in the cyclone, have been rescued from the Bay of Bengal, a defence spokesman told the BBC.
They were rescued from lifeboats north-east of Orissa's Balasore district, he said.