Telangana protests: Workers halt strike over cyclone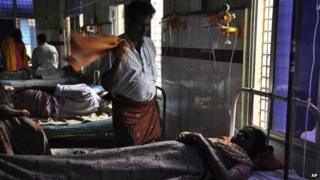 Striking power employees in India's Andhra Pradesh have called off their protest temporarily as a cyclone approaches the southern state's coast.
They were on strike for the past five days against a decision to split Andhra and create a new state of Telangana.
A spokesman said the strike was halted to avoid inconvenience to the people.
Meanwhile, an opposition politician who has been on a protest fast for six days was taken to hospital after his health deteriorated.
Mr Reddy, leader of the regional YSR Congress Party, was moved forcibly to hospital late on Wednesday night by the police.
Leaders of the Electricity Employees Joint Action Committee, which represents more than 30,000 electricity department workers, said they had agreed to call off their strike after holding talks with Chief Minister N Kiran Kumar Reddy on Thursday.
"We have not called off our strike completely," Press Trust of India quoted a committee leader, whose name was given only as Saibabu, as saying after the meeting. "It's only temporary in view of the cyclone threat."
He said power supply would be restored immediately.
"We will, however, continue our protests in other forms," he added.
The strike had resulted in crippling blackouts through large parts of the state.
The power cuts hit rail and air traffic while hospitals and emergency services were using generators.
Water supplies and mobile phone services were also affected.
On Wednesday night, opposition hunger-striker Jagan Mohan Reddy was taken to hospital in Hyderabad to be given fluids.
Mr Reddy was forcibly moved to hospital after he turned down the advice from a team of doctors who asked the 40-year-old politician to call off his fast after his blood sugar levels dropped and his kidney functions deteriorated.
Another Andhra Pradesh politician - former state chief minister and leader of the Telugu Desam party Chandrababu Naidu - has also been on a protest hunger strike in the Indian capital, Delhi, since Monday.
The protesters say they do not want Andhra Pradesh split in two to create the new state.
Those against the division of Andhra Pradesh say the move will divide the Telugu language-speaking population.
They are also unhappy that the state capital, Hyderabad, home to many major information technology and pharmaceutical companies, would become a shared state capital.
But supporters of Telangana say the region, comprising 10 districts of the southern state, including Hyderabad, has been neglected by central government.